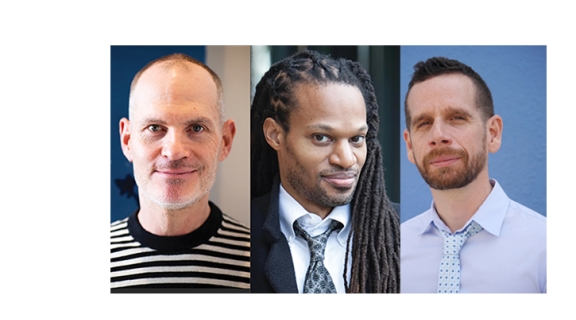 Prose at The Poetry Center: Matthew Clark Davison, Stacy D. Flood, and Patrick Earl Ryan
Thursday, February 24
Event Time
03:00 p.m. - 04:30 p.m.
Cost
Free and open to the public
Location
The Poetry Center, Humanities 512, San Francisco State University
Contact Email
poetry@sfsu.edu
Overview
This program also available via live-stream and at the same link after the event.
Supported by the National Endowment for the Arts
Join us at The Poetry Center (or tune in via live-stream) for this in-person reading and conversation with three friends and SF State alums. Matthew Clark Davison, Stacy D. Flood, and Patrick Earl Ryan will each be presenting their newly published fiction, and talking with each other and the audience. 
Please note: proof of vaccination and mask are required in order to attend in person.
Matthew Clark Davison is the author of Doubting Thomas (Amble Press, 2021). He is creator and teacher of The Lab :: Writing Classes with MCD, a non-academic school started in 2007 in a friend's living room on Douglass Street. The textbook version of The Lab, co-authored by bestselling writer Alice LaPlante, will be published by Norton in 2022. His prose has been published in or on BOMB, LitHub, Lambda Literary, The Advocate, Exquisite Pandemic, Guernica, The Atlantic Monthly, Foglifter, Lumina Magazine, and others; and has been recognized with a Creative Work Grant, Cultural Equities Grant, Clark Gross Award for a Novel-in-Progress, and a Stonewall Alumni Award. He earned a BA and MFA in Creative Writing from SFSU, where he now teaches full-time in the BA/MA/MFA departments.
Stacy D. Flood, originally from Buffalo, and currently living in Seattle, has had his work published nationally, and performed on stages nationwide as well as in the Puget Sound Area. He has been an artist-in-residence at DISQUIET in Lisbon, as well as Millay Arts in New York, and he is the recipient of a Getty Fellowship to the Community of Writers. Published in 2021 by Lanternfish Press, The Salt Fields is his first novella.
Patrick Earl Ryan was born and raised in New Orleans, Louisiana, in a family spanning 5 continents and 7 generations in the city. His debut short story collection If We Were Electric was chosen by Roxane Gay as the winner of the Flannery O'Connor Award for Short Fiction and published in 2020 by University of Georgia Press. His stories have appeared in Ontario Review, Pleiades, Best New American Voices, Men on Men: Best New Gay Fiction for the Millennium, Cairn, James White Review, and Gertrude; and he was the founder and editor-in-chief of the LGBTQ+ literary journal Lodestar Quarterly. More here.
Tags
Upcoming Events
Saturday, September 23, 2023
Saturday, September 30, 2023
Thursday, October 05, 2023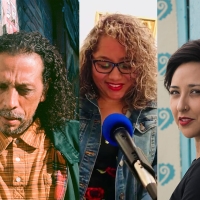 Thursday, October 05, 2023