Welcome to The Poetry Center
Mission Statement: The Poetry Center presents and documents the work of outstanding contemporary poets and writers, creating and preserving original new and historic audio and video recordings, while assuring public awareness of and access to live performances and archival resources. 
The Poetry Center organizes some 30 public readings, performances, and poetry-related talks each year, on the San Francisco State University campus and at other Bay Area venues, featuring poets and writers from across the literary spectrum. Our Reading Series is one of the longest consistently-running such programs in the country, with roots in the 1950s San Francisco Poetry Renaissance. New programs alongside historic recordings from seven decades are being migrated to online access at Poetry Center Digital Archive.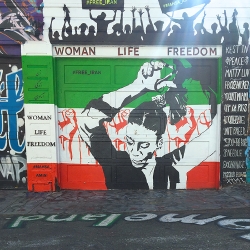 WOMAN. LIFE. FREEDOM. In solidarity with the Iranian Freedom Movement
WOMAN. LIFE. FREEDOM. The Poetry Center is honored to co-present several events in collaboration with the Center for Iranian Diaspora Studies (Persis Karim, director), Hafez Modirzadeh (School of Music), and Tonya M. Foster (George and Judy Marcus Endowed Chair in Poetry). This collaboration is made possible with the support of a College of Liberal and Creative Arts 2023 "Extraordinary Ideas" grant. Image shows public artwork in Clarion Alley by muralists: Farnaz Zabetian, Roshanak Rahimi, Mojgan Saberi, and Leva Zand. See MARCH 8, MARCH 14 and MARCH 16 programs.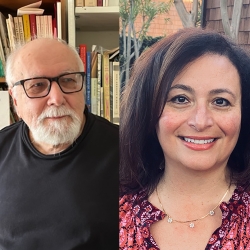 Beau Beausoleil and Deema K. Shehabi: Thursday FEB 16
Beau Beausoleil and Deema K. Shehabi, friends, co-conspirators, and fellow Bay Area poets, come together for our first public program of 2023. They will each be reading from their work at The Poetry Center Reading Room then engaging in conversation with one another and with their audience. Photo of Beau Beausoleil by Andrea Hassiba. Please join us!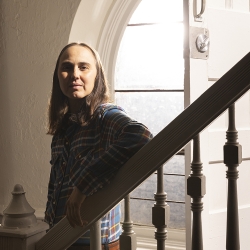 Julian Talamantez Brolaski, The End of the Line: Rhyme and the Poetics of Authority: Saturday FEB 18
Poet and scholar Julian Talamantez Brolaski returns to the Bay Area. Join us in person at East Bay Media Center in downtown Berkeley, for this program co-presented by The Poetry Center and Small Press Traffic, with support from the Bagley Wright Lecture Series on Poetry. Photo by Ryan Collerd. Join us!
Poetry Center Digital Archive
Years Presenting Poets & Their Works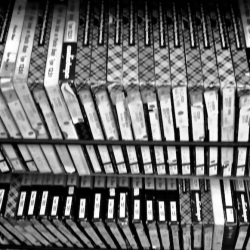 Poetry Center Digital Archive
The Poetry Center houses the American Poetry Archives, a historic collection of some 5,000 hours of original audio and video recordings documenting The Poetry Center Reading Series up to the present. Now available online:
Join our Events and Follow Us
Awards
The Poetry Center offers several awards each year to recognize distinguished poets.
Resources
We offer many resources in addition to our own Poetry Digital Archive.
Support
The Poetry Center couldn't do it without the support of so many individuals.