Welcome to The Poetry Center
Mission Statement: The Poetry Center presents and documents the work of outstanding contemporary poets and writers, creating and preserving original new and historic audio and video recordings, while assuring public awareness of and access to live performances and archival resources. 
The Poetry Center organizes some 30 public readings, performances, and poetry-related talks each year, on the San Francisco State University campus and at other Bay Area venues, featuring poets and writers from across the literary spectrum. Our Reading Series is one of the longest consistently-running such programs in the country, with roots in the 1950s San Francisco Poetry Renaissance. New program videos alongside historic recordings from seven decades are being migrated to online access at Poetry Center Digital Archive.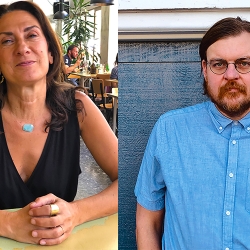 Phoebe Giannisi and Brandon Brown, at The Green Arcade
Poet, performer, and scholar Phoebe Giannisi, visiting from her home in Athens, Greece, together with poet and translator Brandon Brown each read from their poetry. Giannisi is The Poetry Center's Mazza Writer in Residence for Spring 2023. This second public event, with Bay Area poet Brandon Brown joining in, is the final Poetry Center program at The Green Arcade. Susan Gevirtz will provide introductions for the poets. Please join us for what should be a memorable evening!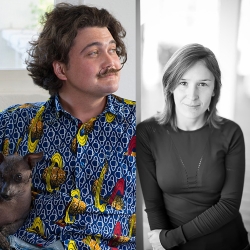 Tripwire Cross-Cultural Poetics Series: Alana Marie Levinson-LaBrosse and Shook
For this year's Tripwire Cross-Cultural Poetics Series, our honored guests are Alana Marie Levinson-LaBrosse and Shook, prolific poet-translators whose work is devoted to persecuted languages and endangered literatures, with an emphasis on a relational, not extractive, approach to translation. They are joined by their friend and co-worker Zêdan Xelef, poet-translator and presently graduate student in the MFA writing program at SF State, as interlocutor and representative of The Poetry Center.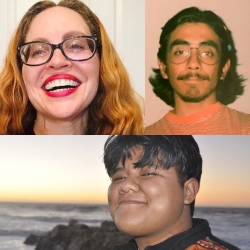 New Voice Series: featuring Meliza Bañales, with Carlos Quinteros III and Hilary Cruz Mejia
The New Voice Series, in its third annual iteration, features a poet alum of SF State, in combination with a current SF State Creative Writing graduate student poet, and an undergraduate student poet (drawn from any major) at SF State, each reading their work and engaging in conversation. For this year's event, Meliza Bañales will appear as featured poet, along with Carlos Quinteros III and Hilary Cruz Mejia. Participants in the series are selected by Poetry Center student staff. Please join us!
Poetry Center Digital Archive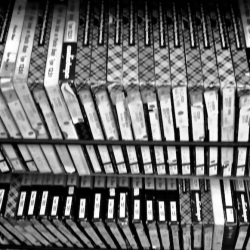 Poetry Center Digital Archive
The Poetry Center houses the American Poetry Archives, a historic collection of some 5,000 hours of original audio and video recordings documenting The Poetry Center Reading Series from 1954 to the present. Now available online:
Join our Events and Follow Us
Awards
The Poetry Center offers several awards each year to recognize distinguished poets.
Resources
In addition to our Reading Series and recorded Archives, we host a 7,000 volume poetry collection in our Reading Room, Humanities 512.
Donate
The Poetry Center couldn't do what we do without your financial support. Please join us!