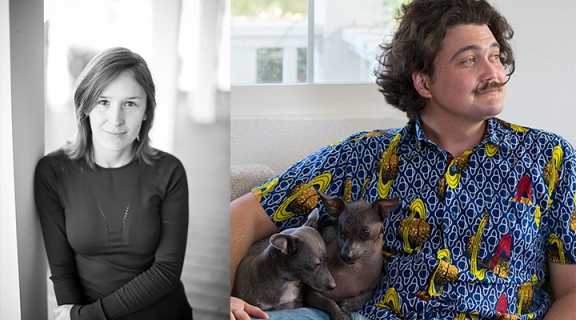 Tripwire Cross-Cultural Poetics Series: Alana Marie Levinson-LaBrosse and Shook, at Medicine for Nightmares
Saturday, May 06
Event Time
03:00 p.m. - 05:00 p.m.
Cost
Free and open to the public
Location
Medicine for Nightmares, 3036 24th Street, San Francisco
Contact Email
poetry@sfsu.edu
Overview
Mask requested for in-person attendance
Tune in to the video livestream
The Poetry Center, in conjunction with Tripwire: a journal of poetics, and together with our friends at Medicine for Nightmares, presents this latest program in the Tripwire Cross-Cultural Poetics Series. Our honored guests are Alana Marie Levinson-Labrosse and Shook, prolific poet-translators whose work is devoted to persecuted languages and endangered literatures, with an emphasis on a relational, not extractive, approach to translation. They are joined by their friend and co-worker Zêdan Xelef, poet-translator and presently graduate student in the MFA writing program at SF State, as interlocutor and representative of The Poetry Center. Please join us!
This event is free and open to the public.
Now in its fifth year, the annual Tripwire Cross-Cultural Poetics Series focuses on cultural and poetic work seen from outside narrow nation-state points of view, presenting poets and related artists often deeply engaged in the poetics and politics of translation and offering models for practice.
Alana Marie Levinson-LaBrosse is a poet, translator, and assistant professor at the American University of Iraq, Sulaimani (AUIS). She earned her PhD in Kurdish studies at the University of Exeter, specializing in 19th-century poetry, and holds an MFA from Warren Wilson College as well as an MEd from the University of Virginia. Her writing has appeared in Modern Poetry in Translation, World Literature Today, In Other Words, Plume, Epiphany, Sewanee Review, the Iowa Review, and Words Without Borders. Her book-length works include Kajal Ahmed's Handful of Salt (2016), Abdulla Pashew's Dictionary of Midnight (2019), Nali's My Moon Is the Only Moon (2021), and Farhad Pirbal's The Potato Eaters (2023). She is a 2022 recipient of an NEA Translation grant, serves as the director of Kashkul, and was the founding director of the Slemani UNESCO City of Literature.
Shook is a poet, translator, and editor. Their debut collection Our Obsidian Tongues has had poems translated into Arabic, French, Isthmus Zapotec, Kurmanji, Japanese, Mandarin, Sorani, Spanish, Swedish, and Uyghur. The book was adapted into a short film in Rwanda, and published in Chile as Lenguas de obsidiana in late 2019. In 2013 Shook founded nonprofit publishing house Phoneme Media, which has since published over thirty books translated from twenty-six different languages, including the first ever literary translations from languages like Lingala and Uyghur. Shook has translated over fourteen books from Spanish and Isthmus Zapotec. They are currently Artist in Residence at Kashkul, an arts and research collaborative at the American University of Iraq, Sulaimani, a Visiting Teaching Fellow at Manchester Metropolitan University's Writing Program, and a Fellow at the Los Angeles Institute for the Humanities at the University of Southern California. Read their recent writing from Iraq about young Êzîdî poets, Kurdish manuscript preservationists, and Rhojelat installation art. 
Video, other programs in the series:
Etel Adnan, a Memorial Tribute: May 14, 2022
Momtaza Mehri and Zoé Samudzi: March 13, 2021
Cardboard House Press/Cartonera Collective: Giancarlo Huapaya, Omar Pimienta, José Antonio Villarán, and Friends: November 8, 2019
Cardboard House Press: Giancarlo Huapaya, Omar Pimienta, José Antonio Villarán: November 7, 2019
Antena: Jen Hofer and John Pluecker: September 27, 2018
Tags
Upcoming Events
Saturday, September 23, 2023
Saturday, September 30, 2023
Thursday, October 05, 2023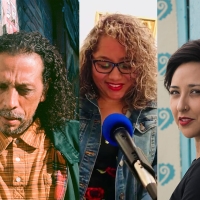 Thursday, October 05, 2023