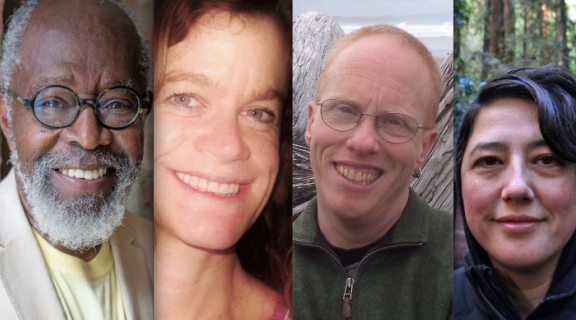 Poetry and Environmental Justice, featuring Ed Roberson, Tiffany Higgins, Eli Clare, Lehua M. Taitano
Saturday, April 17
Event Time
06:00 p.m. - 08:00 p.m.
Cost
Free and open to the public
Location
Remote access event
Contact Email
poetry@sfsu.edu
Overview
With emcee, Steve Dickison
Presented in conjunction with the Poetry Coalition
Cosponsored by The Poetry Center and the Paul K. Longmore Institute on Disability, SF State
We welcome people with disabilities and want to do what we can to make this event accessible to you. *** ASL interpretation and Live Captioning will be provided. *** Media captioning will be available after the event at our YouTube channel and at Poetry Center Digital Archive.
Supported by a grant from the Andrew W. Mellon Foundation to the Academy of American Poets in support of Poetry Coalition programs
...There are names each thing has for itself,
and beneath us the other order already moves.
It is burning.
It is dreaming.
It is waking up.
—Linda Hogan, from "Map"
The Poetry Center, in conjunction with the Poetry Coalition, presents one in a series of programs across the country during March and April around this shared topic. Four poets, whose work is recognized for its address to ideas of justice, to our global climate crisis, and to the effects of colonialism and racial capitalism, read from their work and join in conversation with one another and, time permitting, in response to questions from the audience. Ed Roberson, Tiffany Higgins, Eli Clare, and Lehua M. Taitano will be joined by emcee, Steve Dickison.
Ed Roberson is the author of many books of poetry, including the newly, released Asked What Has Changed (Wesleyan University Press, 2021) and the forthcoming MPH and Other Road Poems (Verge Books, 2021). A former special programs administrator at Rutgers University's Cook Campus, Roberson has lived in Chicago since 2004 and is an emeritus professor in Northwestern University's MFA creative writing program. He has also held posts at the University of Chicago, Columbia College, the University of California, Berkeley, and the Cave Canem retreat for black writers. His honors include the Jackson Poetry Prize, the Shelley Memorial Award, the Ruth Lilly Poetry Prize, the Lila Wallace-Reader's Digest Writers' Award, and the African American Literature and Culture Association's Stephen Henderson Critics Award. Born and raised in Pittsburgh, Roberson has worked as a limnologist's assistant (conducting research on inland and coastal freshwater systems in Alaska's Aleutian Islands and in Bermuda), as a diver for the Pittsburgh Aquazoo, in an advertising graphics agency, and in the Pittsburgh steel mills.
Tiffany Higgins, a 2022 Fulbright scholar to Brazil's Amazon, writes on Brazil and the environment. As well as translating from Portuguese, she is the author of two collections of poems, And Aeneas Stares into Her Helmet (2009), selected by Evie Shockley as the winner of the 2008 Carolina Wren Press Poetry Prize, and the long-poem chapbook, The Apparition at Fort Bragg. Her poetry, literary translation from Portuguese, and journalism appear in Granta, Mongabay, Poetry, and elsewhere. She was the 2020 Annie Clark Tanner Fellow in Environmental Humanities at the University of Utah.
Eli Clare. White, disabled, and genderqueer, Eli Clare lives near Lake Champlain in the occupied Abenaki territory (also known as Vermont) where he writes and proudly claims a penchant for rabble-rousing. He has written two books of creative non-fiction, the award-winning Brilliant Imperfection: Grappling with Cure (Duke U Press, 2017) and Exile and Pride: Disability, Queerness, and Liberation, and a collection of poetry, The Marrow's Telling: Words in Motion, and has been published in many periodicals and anthologies. Eli speaks, teaches, and facilitates all over the United States and Canada at conferences, community events, and colleges about disability, queer and trans identities, and social justice. He is currently a University at Buffalo Center for Diversity Innovation Distinguished Visiting Scholar. Among other pursuits, he has walked across the United States for peace, coordinated a rape prevention program, and helped organize the first-ever Queerness and Disability Conference.
Lehua M. Taitano is a queer CHamoru writer and interdisciplinary artist from Yigu, Guåhan (Guam) and co-founder of Art 25: Art in the Twenty-fifth Century. She is the author of two volumes of poetry—Inside Me an Island and A Bell Made of Stones, and her chapbook, appalachiapacific, won the  Merriam-Frontier Award for short fiction. She has two recent chapbooks of poetry and visual art:  Sonoma and Capacity. Her poetry, essays, and Pushcart Prize-nominated fiction have been published internationally. She is the recipient of a 2019 Eliza So Fellowship and the 2019 Summer Poet-in-Residence at The Poetry Center at The University of Arizona. She has served as an APAture Featured Literary Artist via Kearny Street Workshop, a Kuwentuhan poet via The Poetry Center at SFSU, and as a Culture Lab visual artist and curatorial advisor for the Smithsonian Institute's Asian Pacific American Center. Taitano's work investigates modern indigeneity, decolonization, and cultural identity in the context of diaspora. Future Ancestors, Art 25's collaboration with Jocelyn Kapumealani Ng, was part of AFTER LIFE (we survive), Winter 2021–22 at Yerba Buena Center for the Arts in San Francisco. More here.
Tags
Upcoming Events
Saturday, September 23, 2023
Saturday, September 30, 2023
Thursday, October 05, 2023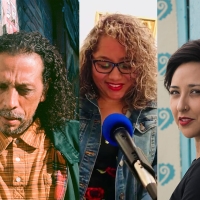 Thursday, October 05, 2023