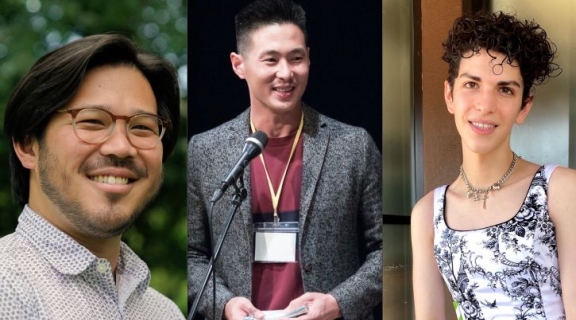 New Voice Series, featuring Dan Lau, with Edward Gunawan, and Carlos Osoria
Wednesday, May 05
Event Time
04:00 p.m. - 05:00 p.m.
Cost
Free and open to the public
Location
Remote access event
Contact Email
poetry@sfsu.edu
Overview
With emcee, Carlos Quinteros III
Video live-streamed to our YouTube channel. Media captioning available there after the event.
"...gut me and make me new..."
—Dan Lau, from "Molt"
The Poetry Center is delighted to announce the New Voice Series, initiated in Spring 2021 as an annual reading series that will pair a poet alum of SF State, a current SF State graduate student poet in Creative Writing, and a current undergraduate student poet at SF State (any major), to each, read their work and engage in conversation. For the premiere event, poet Dan Lau has been invited to appear along with student poets Edward Gunawan and Carlos Osoria. Please join us!
Dan Lau. A Kundiman, William Dickey, and Kustra fellow, Dan Lau has received grants and awards from the GAPA Foundation, APICC, Queer Cultural Center, Browning Society of San Francisco, and the Fine Arts Work Center in Provincetown. He has accepted residencies at Caldera, Show Us Your Spines: A Radar Archives Residency, Willapa Bay AiR, and a Blue Mountain Center. He holds a B.A. from CUNY: Hunter College; an M.A. from San Francisco State University where he was the 2012 San Francisco State University Creative Writing Department Distinguished MA Graduate Honoree, and an M.F.A. in Poetry from Boise State University. Since 2012, Lau has worked at different capacities in grassroots fundraising. Currently, he serves his community as the Managing Poetry Editor at the award-winning Bay area-based literary journal, Foglifter, and as the Development Director at Kundiman, a national non-profit organization dedicated to nurturing generations of writers and readers of Asian American literature.
Edward Gunawan. A queer immigrant from Indonesia and of Chinese heritage, Edward Gunawan is a writer and interdisciplinary storyteller whose essay has been published in an Asian LGBTQ anthology Intimate Strangers (Signal 8 Press) and films have been screened in international film festivals such as Berlin, Locarno, and Clermont-Ferrand. He is also the creator of the award-winning webcomic Press Play, which was published as a chapbook by Sweet Lit in 2020. Now based in Oakland, he is pursuing his MFA in Creative Writing at San Francisco State University, with the support of the Marcus Recruitment Award. Visit addword.com to learn more.
Carlos Osoria is a trans, Indigenous feminist activist. Their pronouns are she/her/they/them. Much of their fieldwork and research is centered around sex, gender, sexuality, and Ethnic studies; however, literary studies aren't far from their scope either, as they also research lost queer and trans representations within the literature. They have written for The Ana a quarterly arts magazine. Currently, they are on a path to receive their BA in Comparative and World Literature and American Indian Studies with a minor in Queer Ethnic Studies. Community building, gossiping, and buying unneeded books are their favorite pastimes.
Event contact: 
The Poetry Center
Event email: 
Event sponsor: 
The Poetry Center, New Voice Series
Tags
Upcoming Events
Saturday, September 23, 2023
Saturday, September 30, 2023
Thursday, October 05, 2023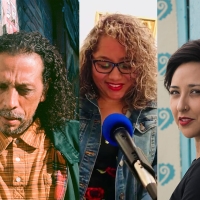 Thursday, October 05, 2023