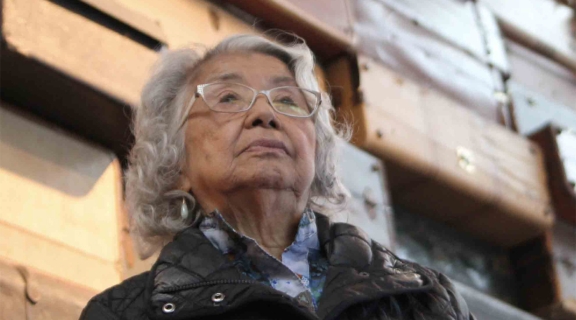 Mitsuye Yamada's 100th Birthday, a poets' reading and tribute, hosted by Brynn Saito and Brandon Shimoda
Saturday, September 23, 2023
Event Time
02:00 p.m. - 03:30 p.m. PT
Cost
Free and open to the public
Contact Email
poetry@sfsu.edu
Overview
The Poetry Center is deeply honored to present a poets' reading and tribute to acclaimed poet, essayist, educator, feminist, and human rights activist, Mitsuye Yamada, to help mark her 100th birthday and the extending influence of her remarkable life and work. This online event is hosted by poets Brynn Saito and Brandon Shimoda and organized with the kind assistance of Hedi Yamada Mouchard. This program is supported by the National Endowment for the Arts.  
• VIDEO for this program now posted at Poetry Center Digital Archive.
Participants include: Marilyn Chin, Chrystos, doris diosa davenport, W. Todd Kaneko, traci kato-kiriyama, Shirley Geok-Lin Lim, Mia Ayumi Malhotra, Cherríe Moraga, and Nellie Wong, in addition to our hosts, Brynn Saito and Brandon Shimoda.
Mitsuye May Yamada was born in Kyushu, Japan in 1923. She grew up in Seattle, Washington. In 1942, when she was 17, her family was among 120,000 persons of Japanese ancestry who were forcibly removed from their homes and relocated to concentration camps for the duration of the war. She later attended the University of Cincinnati and earned a BA from New York University and an MA from the University of Chicago. She received an Honorary Doctorate from Simmons College in Boston in 2009.
Yamada was one of the first and most vocal of Asian American women writers who wrote about the wartime incarceration of Japanese Americans. She is the author of Camp Notes and Other Poems (1976) and Desert Run: Poems and Stories (1988), both of which are available in the combined volume, Camp Notes and Other Writings (1998). At the age of 96, she released her latest work, Full Circle: New and Selected Poems (UCSB Dept. of Asian American Studies, 2019).
With a lifelong commitment to fighting for human rights, Yamada began working with a local chapter of Amnesty International and was eventually elected to serve on the Amnesty International USA National Board of Directors where she served two terms. 
Yamada was featured in the 1981 documentary Mitsuye and Nellie: Two Asian American Woman Poets by the Academy Award-winning filmmakers Light-Saraf Films. She was the recipient of a MELUS award, a Vesta Award from the Los Angeles Woman's Building, and a Jesse Bernard Wise Women Award from the Center for Women's Policy Studies, Washington DC. She was a Women's Day USA Honoree, has been designated a KCET Local Hero and was a Yaddo Fellow, Saratoga Springs, New York. More at mitsuyeyamada.com Photo by Hedi Yamada Mouchard; Mitsuye Yamada at the Japanese American National Museum, Los Angeles.
Participants
Marilyn Chin is an award-winning poet and author. Born in Hong Kong and raised in Portland, Oregon, her works have become Asian American classics and are taught in classrooms internationally. Marilyn Chin's books of poems include Sage, A Portrait of the Self as Nation, Hard Love Province, Rhapsody in Plain Yellow, Dwarf Bamboo, and The Phoenix Gone, the Terrace Empty. She also published a book of magical fiction called Revenge of the Mooncake Vixen. In addition to writing poetry and fiction, she has translated poems by the modern Chinese revolutionary poet Ai Qing and co-translated poems by the Japanese poet Gozo Yoshimasu. Chin has won numerous awards, including the Ruth Lilly Prize for lifetime achievement in poetry, the American Academy of Arts and Letters award, the United Artist Foundation award, the Radcliffe Institute Fellowship at Harvard, the Anisfield-Wolf Book Award, the Rockefeller Foundation Fellowship at Bellagio, the PEN-Josephine Miles Book award, two NEAs, the Stegner Fellowship, a Fulbright Fellowship to Taiwan, the California Assembly API Heritage Caucus Award for Excellence in Education, and others.
Chrystos is a Menominee poet, activist, and author. She is the author of several collections of poetry, including Fire Power (1995), Dream On (1991), and Not Vanishing (1988). Chrystos' work has been featured in the anthologiesThis Bridge Called My Back: Writings by Radical Women of Color (1981), edited by Cherríe Moraga and Gloria E. Anzaldúa, and Living the Spirit: A Gay American Indian Anthology (1988), edited by Will Roscoe. With Tristan Taormino, she coedited the anthology Best Lesbian Erotica 1999. Her honors include the Audre Lorde International Poetry Competition, a Barbara Deming Grant, a National Endowment for the Arts grant, and the Sappho Award of Distinction from the Astraea Lesbian Foundation for Justice.
doris diosa davenport (pronouns: person / per): Performance poet, writer, educator & independent scholar; BA Paine College; MA SUNY/Buffalo, NY; PhD Univ. of So. Calif. Visionary 75-year-old sapiosexual lesbian-feminist born & raised in traditional Cherokee Homelands (aka Northeast Georgia); member of CLA (www.clascholars.org), Alternate ROOTS (www.alternateroots.org) and The International (& Intergalactic) LGBTQIA+ Nation! Per continually, adamantly works to end all forms of oppression, with truth & honesty-based egalitarian, inclusive, *magical* realities. New book, testimony: proclamations, poems, potions is person's 13th published book. "Context: Mitsuye is one of my most cherished friends, and one of only three (3) beloved poet-peers. Therefore, VERY happy to be included here." 
W. Todd Kaneko is the author of This is How the Bone Sings (Black Lawrence Press 2020) and The Dead Wrestler Elegies, Championship Edition (New Michigan Press 2023). He is co-author with Amorak Huey of Poetry: A Writers' Guide and Anthology (Bloomsbury Academic 2018), and Slash / Slash, winner of the 2020 Diode Editions Chapbook Contest. His poems, essays, and stories can be seen in Poetry, Alaskan Quarterly Review, Los Angeles Review, The Normal School, Hobart, [PANK], Blackbird, The Rumpus, Song of the Owashtanong: Grand Rapids Poetry in the 21st Century, Bring the Noise: The Best Pop Culture Essays from Barrelhouse Magazine , Best Small Fictions 2017 and 2018, and many other journals and anthologies.
traci kato-kiriyama (they+she), author of Navigating With(out) Instruments--based on unceded Tongva land in the south bay of Los Angeles-- is an award-winning multi-, inter- and transdisciplinary artist, recognized for their work as a writer/performer, theatre deviser, cultural producer, and community organizer. As a storyteller and Artivist, tkk is grounded in collaborative process, collective self-determination, and art+community as intrinsically tied and a critical means toward connection and healing. She is a performer & principal writer for PULLproject Ensemble, two-time NET recipient; NEFA 2021-22 finalist for their show TALES OF CLAMOR.  tkk —presented for over 25 years in hundreds of venues throughout North America as a writer, actor, poet, speaker, guest lecturer, facilitator, Artist-in-Residence, and organizing / arts & culture consultant— has come to appreciate a wildly hybrid career. Their work is also featured in a wide swath of media and print publications. tkk is a core artist of Vigilant Love, member of the H.R. 40 Coalition and organizer with the Nikkei Progressives & NCRR joint Reparations Committee, and Director/Co-Founder of Tuesday Night Project (presenter of the Tea & Letterwriting initiative and Tuesday Night Cafe series in Little Tokyo).
Shirley Geok-Lin Lim (UCSB Emerita), authored a memoir, eleven poetry collections, three novels, The Shirley Lim Collection, three story collections; widely anthologized, published in Hudson Review, Feminist Studies, Virginia Quarterly Review, etc.; awarded Commonwealth Poetry Prize, two American Book Awards, MELUS and Feminist Press Lifetime Achievement Awards.
Mia Ayumi Malhotra is the author of Mothersalt (Alice James Books, forthcoming 2025) and Isako Isako, a California Book Award finalist and winner of the Alice James Award, the Nautilus Gold Award for Poetry, a National Indie Excellence Award, and a Maine Literary Award. She is also the author of the chapbook Notes from the Birth Year, winner of the Bateau Press BOOM Contest. Mia holds degrees in creative writing from Stanford University and the University of Washington, and her work has received the Hawker Prize for Southeast Asian Poetry and the Singapore Poetry Prize. She is a proud Kundiman Fellow and a founding member of The Ruby SF, a gathering space for women and nonbinary artists. She lives in the San Francisco Bay Area, where she teaches poetry workshops and is currently writing about music and the interior life.
Cherríe Moraga is the co-editor of This Bridge Called My Back: Writings by Radical Women of Color, to which Mitsuye Yamada originally contributed in 1981. Moraga is a Distinguished Professor in the Department of English at UCSB, where she also serves as the Co-Director of Las Maestras Center for Xicana[x] Indigenous Thought, Art & Social Praxis. Her most recent publications include a 2023 edition of Loving in the War Years & Other Writings 1978–1999 and Native Country of the Heart – A Memoir, published by Farrar, Straus and Giroux in 2019.
Brynn Saito's third book of poems, Under a Future Sky, was published in August by Red Hen Press. She's the recipient of the Benjamin Saltman Award, a finalist for the Northern California Book Award, and her work has appeared in the New York Times and American Poetry Review. Brynn teaches in the MFA program at California State University, Fresno. She's currently co-editing an anthology of poetry written by descendants of the Japanese American incarceration, forthcoming in 2025 from Haymarket Books.
Brandon Shimoda is the author of several books of poetry and prose, most recently Hydra Medusa (Nightboat Books, 2023) and The Grave on the Wall (City Lights, 2019), which received the PEN Open Book Award. With Brynn Saito, he is co-editing an anthology of poetry on Nikkei (Japanese American/Canadian) incarceration, which is forthcoming from Haymarket Books in 2025.
Nellie Wong. Author of four books of poetry, and a few poems scattered about the universe, Nellie Wong is delighted to celebrate her sister-poet and dear friend Mitsuye's 100th birthday.  Activist poets-comrades-in-arm and with special shout-out to Allie Light and Irving Saraf, she was co-featured in their documentary film, Mitsuye and Nellie, Asian America Poets. Along with Merle Woo, the trio supported the late Marilyn Buck and other political prisoners, and published poems and essays in Three Asian American Writers Speak Out on Feminism (Radical Women Publications). Cognizant of her ancestral roots, Nellie continues her search and activism for beauty through struggle. Nellie received the 2022 Reginald Lockett Lifetime Achievement Award from PEN Oakland.
Tags
Upcoming Events
Saturday, December 09, 2023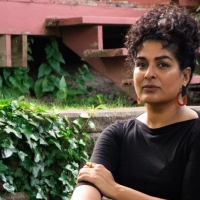 Saturday, December 09, 2023