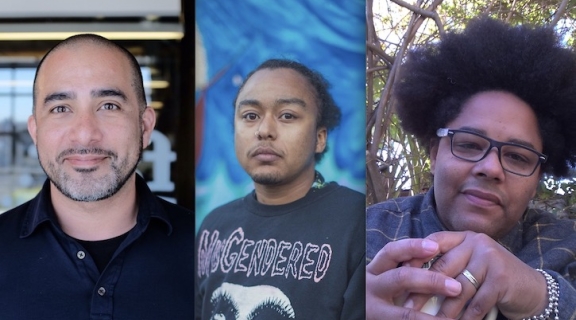 Mazza Writer in Residence Brontez Purnell and Friends: Cisco Guzman, Mason J., and Melissa Merin
Thursday, April 08
Event Time
07:00 p.m. - 08:00 p.m.
Cost
Free and open to the public
Location
Remote access event
Contact Email
poetry@sfsu.edu
Overview
Watch the unedited video at YouTube before the finished program gets posted at Poetry Center Digital Archive
With emcee, TreVaughn Malik Roach-Carter
Supported by the Sam Mazza Foundation
This remote-access event starts promptly at 7:00 pm Pacific Time and is free and open to the public. Media Captioning provided after the event, at our YouTube channel, and at Poetry Center Digital Archive. For other reasonable accommodations please contact poetry@sfsu.edu.
The Poetry Center welcomes Brontez Purnell, as Mazza Writer in Residence for Spring 2021. For this sixth iteration of the twice-annual Mazza Residency, this prolific and astoundingly versatile writer and artist will be visiting as a guest in classes across the SF State campus through the week of April 5, and offering two public performances: a solo reading and conversation, with emcee TreVaughn Malik Roach-Carter, on Wednesday April 7 at 4:00 pm Pacific Time, and on Thursday April 8 at 7:00 pm Pacific, a queer writers of color reading and round table with Bay Area friends Cisco Guzman, Mason J., and Melissa Merin, also with emcee TreVaughn Malik Roach-Carter.
Brontez Purnell is a writer, musician, dancer, filmmaker, and performance artist. He is the author of a graphic novel, a novella, a children's book, and two novels. Purnell is also frontman for the band the Younger Lovers, the co-founder of the experimental dance group the Brontez Purnell Dance Company, the creator of the renowned cult zine Fag School, and the director of several short films, music videos, and most recently the documentary Unstoppable Feat: Dances of Ed Mock. Two books of fiction, Since I Laid My Burden Down, and Johnny Would You Love Me If My Dick Were Bigger, were published by The Feminist Press at CUNY. His short film 100 Boyfriends Mixtape is screening at the Criterion Channel, and his new novel 100 Boyfriends is out now on MCD Books from Farrar, Straus, and Giroux. Born in Triana, Alabama, he's lived in Oakland, California, for over 18 years.
Cisco Guzman was born in LA long before it was cool, imagining himself the love child of David Bowie and Patti Smith and entrusted to the loving but hilariously dysfunctional care of Mexican immigrants—whose job it was to toughen him up for the cosmic battles ahead. In an effort to outrun what felt like fated suffering, he went to Stanford University where he majored in Feminist Studies, though his resume says he majored in Interdisciplinary Studies because he is a pragmatic revolutionary who would rather dismantle the master's house than have a conversation about it. Poetic status updates on whether this Trojan horse approach to social change is working can be gleaned via printed word, collage, song, and should hopefully be evidenced by his everyday actions to design humane software that helps people to hate their lives less.
Mason J. is a Black & Indigenous SF-born artist, historiographer, media strategist, and community organizer with varied interests ranging from Klaus Nomi to Keeping up with The Kardashians. Their focused passions include land use, youth empowerment, LGBTQ senior services, disability justice, intersex rights, gender/sexuality. In addition to previously working with the SFPL James C. Hormel Center and Transgender Cultural District, Mason currently acts as Program Manager and Co-Founder of RADAR Productions Show Us Your Spines BIPoC queer archives residency. They are the author of Crossbones on My Life (Nomadic Press, 2021) and co-editor of Still Here SF: An Anthology of Queer and Trans People Raised in San Francisco (Foglifter, 2019), and additionally take great pride in their Public Health Nerd, Two-Spirit, Jewish, Nightlifer, Ballroom, Leather, Punk, and Soul Boy identities.
Melissa Merin is a queer Black woman, parent, and educator who has been living on Ohlone Land/SF Bay Area since 1999. She plays music—as Suspect, Suspect—and has self-published a handful of chapbooks and blogs. She participates in advocating and facilitating work toward accountability from transformative and restorative perspectives. Check out her writings and recordings on these activities here. Melissa is actively working for the destruction of white power and dreams of bankrolling Antifa.
Featured:
Brontez Purnell's New Book 100 Boyfriends Feels Right at Home in 2021, by Quinn Roberts, Interview magazine, February 17, 2021
Related event:
Brontez Purnell, Mazza Writer in Residence, a solo reading and conversation
with emcee, TreVaughn Malik Roach-Carter
Wednesday April 7, 4:00 pm Pacific Time
remote access event, free and open to the public
Event contact: 
The Poetry Center
Event email: 
Event sponsor: 
The Poetry Center, Mazza Writer in Residence
Tags
Upcoming Events
Saturday, September 23, 2023
Saturday, September 30, 2023
Thursday, October 05, 2023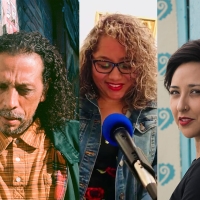 Thursday, October 05, 2023