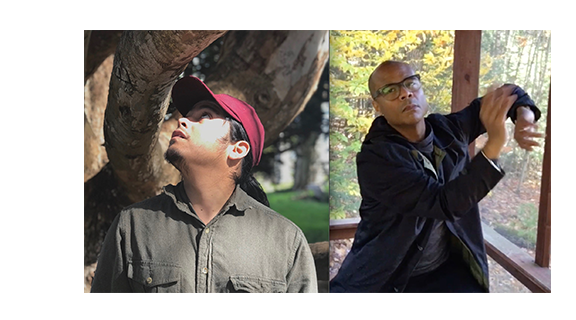 Mazza Writer in Residence Angel Dominguez and Ronaldo V. Wilson, at Alley Cat Bookshop
Saturday, October 16
Event Time
07:00 p.m. - 08:00 p.m.
Location
Alley Cat Bookshop & Gallery, 3036 24th Street, San Francisco
Contact Email
poetry@sfsu.edu
Overview
Supported by the Sam Mazza Foundation
Video live-streamed to our YouTube channel. Media captioning available there after the event.
Poet Angel Dominguez, as The Poetry Center's 7th Mazza Writer in Residence, is guest writer in classes across the SF State campus during the week of October 11, 2021. They'll also present two public events, the latter of these with poet-performer Ronaldo V. Wilson, in the welcoming gallery space at Alley Cat Bookshop in San Francisco's Mission District. Please join us, in person or by live-stream video.
Angel Dominguez is a Latinx poet and artist of Yucatec Maya descent, born in Hollywood and raised in Van Nuys, CA, by their immigrant family. They're the author of ROSESUNWATER (The Operating System, 2021) and Black Lavender Milk (Timeless, Infinite Light 2015). Angel earned a BA from the University of California Santa Cruz and an MFA from the Jack Kerouac School of Disembodied Poetics at Naropa University in Boulder Colorado. You can find Angel's work online and in print in various publications. You can find Angel in the redwoods or ocean. Their third book, DESGRACIADO (the collected letters) is forthcoming with Nightboat Books in 2022.
Interdisciplinary artist, poet, and scholar Ronaldo V. Wilson, Ph.D., is the author of Narrative of the Life of the Brown Boy and the White Man (University of Pittsburgh, 2008), Poems of the Black Object (Futurepoem Books, 2009), Farther Traveler: Poetry, Prose, Other (Counterpath Press, 2015), and Lucy 72 (1913 Press, 2018). Two books, Wilson's Carmelina: Figures (Wendy's Subway, 2021) and Virgil Kills: Stories (Nightboat Books, 2022), are forthcoming. He is the recipient of fellowships from Cave Canem, Kundiman, MacDowell, the Center for Art and Thought, and the Robert Rauschenberg Foundation, among others.  Wilson is Professor of Creative Writing and Literature at UC Santa Cruz, serving on the core faculty of the Creative Critical Ph.D. The program, and principal faculty of Critical Race and Ethnic Studies.
Related event
Mazza Writer in Residence Angel Dominguez and Hannah Kezema, reading and in conversation
Thursday, October 14, 1:00 pm at The Poetry Center, Humanities 512 
Event contact: 
The Poetry Center
Event phone: 
Event sponsor: 
The Poetry Center
Tags
Upcoming Events
Saturday, September 23, 2023
Saturday, September 30, 2023
Thursday, October 05, 2023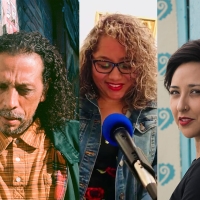 Thursday, October 05, 2023