Krip-Hop Nation: featuring Toni Hickman, Keith Jones, Leroy F. Moore Jr., DJ Quad, Wheelchair Sports Camp
Saturday, March 05
Event Time
03:00 p.m. - 04:30 p.m.
Cost
Free and open to the public
Location
Remote access event
Contact Email
poetry@sfsu.edu
Overview
Co-presented with the Paul K. Longmore Institute on Disability
With Dawn-Elissa Fischer, moderator
ASL and CART will be provided. For any other access concerns, please email Emily Beitiks at beitiks@sfsu.edu.
One of many events taking place beginning March 2022 in conjunction with the Poetry Coalition, under the collective heading "The future lives in our bodies*: Poetry & Disability Justice," with thanks to The Andrew W. Mellon Foundation and Ford Foundation for support of Poetry Coalition programming. Dr. Dawn-Elissa Fischer, who writes and consults about popular culture, policy and political activism with a focus on antiracism, social media and education in a global context, will kindly join the program as moderator (more here). 
Krip-Hop Nation is a worldwide association of artists with disabilities. Founded in 2007 by Leroy F. Moore Jr. in Berkeley, California, the Movement campaigns for equality for people with disabilities worldwide with concerts, tours, workshops and much more. In 2020, four Krip-Hop Nation artists received Emmy Award accolades for Outstanding Music Direction on the Paralympic documentary film Rising Phoenix. 
In addition to Leroy F. Moore Jr. and co-founder Keith Jones, this event presents three other outstanding artists affiliated with Krip-Hop Nation — Toni Hickman, DJ Quad, and Wheelchair Sports Camp — joining in performance and conversation. 
"It is important to us to be seen as artists and musicians who do their thing seriously, purposefully and professionally. We want to show, that a person with a disability also has the right to equal opportunities, that nobody has to hide, that a person with a disability can also discover their talents, promote them and live them out and thus be a valuable part of society. According to our understanding of inclusion, this is exactly what this means: that the focus is on people with their skills and abilities, not their disabilities. We do not want pity, we want consideration, equality, respect and recognition to the same extent that every physically and mentally healthy person enjoys them."
—from the Krip-Hop Nation website
Bios
Leroy F. Moore Jr., 2021 Emmy award winner, is founder of Krip-Hop Nation and a newly-announced United States Artists 2022 Fellow. Since the 1990s, Moore has been a key member of Poor Magazine, starting with the column "Illin-N-Chillin" and then as founding member of the magazine's school, the Homefulness and Decolonize Academy. Moore is also a founding member of the National Black Disability Coalition and an activist around police brutality against people with disabilities, and has started and helped start organizations including Disability Advocates of Minorities Organization and Sins Invalid. His cultural work includes film documentary Where Is Hope, Police Brutality Against People with Disabilities, spoken-word CDs, poetry books and the children's book Black Disabled Art History 101, published by Xochitl Justice Press.
Keith Jones is the President and CEO of SoulTouchin' Experiences LLC, an organization aimed at bringing a perspective to the issues of access inclusion and empowerment, which affect him as well as others who are persons with and without disabilities. The issues he tackles are wide ranging, from immigration, criminal justice reform, and health care to environmental justice. Paralleling his policy and social justice work, Mr. Jones is a multi-talented artist who along with Leroy Moore and Rob Temple co-founded Krip-Hop Nation, currently celebrating 13 years with the recent Emmy Award winning success of their title song for the Netflix documentary of the Paralympic Games, Rising Phoenix and its acclaimed soundtrack. 
Combining humor, playfulness, radical political perspectives, compassion and undeniable musical chops, Wheelchair Sports Camp is Denver's biggest smallest band. Fronted by the wheelchair using, rap heavy, beat-making, freedom fighting producer, educator, foul mouthed, queer rebel rouser Kalyn, the band is a combination of live and electronic instruments with a more noisy, jazzy, experimental, combination to the traditional hip-hop group. Raised by the DIY (Do It Yourself) spirit of experimental independence, the band has since relied on interdependence in order to stretch into theatre, performance art, public television, politics, prison tours, permanent installations, and more to come. The vinyl release of All Is Wonder will be in print soon. More here.
Jesse DJ Quad Morin is a disabled hip hop artist who became paralyzed at the age of 16 from a diving accident at Venice Beach in July of 1984. Once he started getting into DJing he would practice to perfect his craft, still not having full function of his arms and hands. As a producer/beat maker DJ Quad started a hip hop crew called 5th Battalion, with his best friend Fernando Escobar, that was showcased on the underground hip hop scene all over California. He and Leroy Moore got connected as the Krip-Hop Nation was taking off, and his work is on Krip-Hop Nation CD's Vol's 1, 2 and 3, Police Brutality Profiling, and Krip-Hop Nation's 10 year anniversary album.
Toni Alika Hickman is not only a talented singer-songwriter; she is the survivor of two brain aneurysms and a stroke. Using her voice and music to inspire others, she has been featured on the Deborah Duncan Show, Radio One, featured in Shape magazine and other publications throughout the world. She has spoken at numerous colleges and other organizations on subjects of depression and recovery, physical, mental, and spiritual health, living one's purpose, chemicals in beauty products, and a host of other subjects. She is a speaker/performer for YoungStroke and the American Heart Association, an author, artist, Certified Naturopath, mother, and activist, and Emmy Award winning artist for her role in the theme song for the Paralympics documentary Rising Phoenix. More at tonihickman.com.
* The line "The future lives in our bodies" is from the poem "Femme Futures" by Leah Lakshmi Piepzna-Samarasinha.
• Poetry Coalition program news at Publishers Weekly
#KripHopNation #DisabilityJustice #PoetryCoalition
Tags
Upcoming Events
Saturday, September 23, 2023
Saturday, September 30, 2023
Thursday, October 05, 2023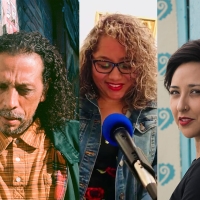 Thursday, October 05, 2023