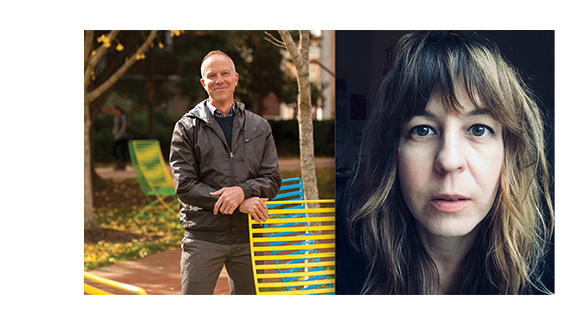 Chris Nealon and Stephanie Young, at East Bay Media Center
Friday, December 10
Event Time
07:00 p.m. - 09:00 p.m.
Location
East Bay Media Center, 1939 Addison Street, Berkeley
Contact Email
poetry@sfsu.edu
Overview
Supported by the Dorothy A. Fowler Trust
Video live-streamed to our YouTube channel. Media captioning available there after the event.
Join us as we welcome poets Chris Nealon—who'll be visiting the Bay Area to deliver The Poetry Center's annual George Oppen Memorial Lecture, the following evening (same time, same venue)—and Stephanie Young.
Like the space heroes of his childhood, Nealon does not give in to the Dark Side in his poetry, retreat into "low-level intra-bourgeois competitiveness," intellectualism, narcissism, or fear. Nor does he engage in "apocalypse braggadocio," setting up the poet as a hero of the breakdown.... The primary thing I feel reading Chris Nealon's The Shore is gratitude. Gratitude that he exists as a writer and thinker, as a human. Gratitude to him for writing this book, whose resonances only deepen in a COVID-crisis world. —Allison Cobb, Lambda Literary Review
 
Stephanie's work is wonderful, a kind of loping swirl full of pop references, half of which I don't understand. But that doesn't matter because the knit is strong material yet loose, leaving lots of space, through which a sense of reality floats and stays with me. In an age of con and artifice, I want this. —Judy Grahn
Chris Nealon is a Professor of English at Johns Hopkins University. He is the author of The Shore (Wave Books, 2020) as well as two books of literary criticism, Foundlings: Lesbian and Gay Historical Emotion before Stonewall (Duke, 2001) and The Matter of Capital: Poetry and Crisis in The American Century (Harvard, 2011), as well as three earlier books of poetry: The Joyous Age (Black Square Editions, 2004), Plummet (Edge Books, 2009), and Heteronomy (Edge, 2014). He lives in Washington, DC.
Stephanie Young lives and works in Oakland. Her books of poetry and prose include It's No Good Everything's Bad, Ursula or University, Picture Palace, and Telling the Future Off. Her latest book of poetry is Pet Sounds (Nightboat Books, 2019). She edited the anthology Bay Poetics, and with Juliana Spahr, A Megaphone: Some Enactments, Some Numbers, and Some Essays about the Continued Usefulness of Crotchless-pants-and-a-machine-gun Feminism. Young is a member of the Krupskaya Books editorial collective.
Related event:
Chris Nealon, The George Oppen Memorial Lecture: "George Oppen and the Future"
Event contact: 
The Poetry Center
Event phone: 
Event sponsor: 
The Poetry Center
Tags
Upcoming Events
Saturday, September 23, 2023
Saturday, September 30, 2023
Thursday, October 05, 2023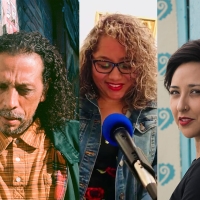 Thursday, October 05, 2023