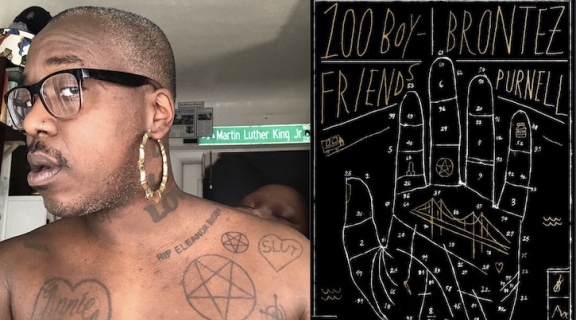 Brontez Purnell, Mazza Writer in Residence, a solo reading and conversation
Wednesday, April 07
Event Time
04:00 p.m. - 05:00 p.m.
Cost
Free and open to the pubic
Location
Remote access event
Contact Email
poetry@sfsu.edu
Overview
Watch the unedited video at YouTube before the finished program gets posted at Poetry Center Digital Archive
With emcee, TreVaughn Malik Roach-Carter
Supported by the Sam Mazza Foundation
This remote-access event starts promptly at 4:00 pm Pacific Time and is free and open to the public. Media Captioning provided after the event, at our YouTube channel, and at Poetry Center Digital Archive. For other reasonable accommodations please contact poetry@sfsu.edu. Please note the early start time!
The Poetry Center is very pleased to welcome Brontez Purnell, as Mazza Writer in Residence for Spring 2021. For this sixth iteration of the twice-annual Mazza Residency, this prolific and astoundingly versatile writer and artist will be visiting as a guest in classes across the SF State campus through the week of April 5, and offering two public performances: a solo reading and conversation, with emcee TreVaughn Malik Roach-Carter, on Wednesday, April 7 at 4:00 pm Pacific Time, and on Thursday, April 8 at 7:00 pm Pacific, a queer writer of color reading and round table with Bay Area friends Cisco Guzman, Mason J., and Melissa Merin. 
Brontez Purnell is a writer, musician, dancer, filmmaker, and performance artist. He is the author of a graphic novel, a novella, a children's book, and two novels. Recipient of a 2018 Whiting Award for Fiction, he was named one of the 32 Black Male Writers for Our Time by The New York Times Style Magazine in 2018. Purnell is also frontman for the band the Younger Lovers, the co-founder of the experimental dance group the Brontez Purnell Dance Company, the creator of the renowned cult zine Fag School, and the director of several short films, music videos, and, most recently, the documentary Unstoppable Feat: Dances of Ed Mock.
Two books of fiction, Since I Laid My Burden Down, and Johnny Would You Love Me If My Dick Were Bigger, were published by The Feminist Press at CUNY. His short film 100 Boyfriends Mixtape is screening at the Criterion Channel, and his new novel 100 Boyfriends is out now on MCD Books from Farrar, Straus, and Giroux. Born in Triana, Alabama, he's lived in Oakland, California, for over 18 years.
Featured:
Brontez Purnell's New Book 100 Boyfriends Feels Right at Home in 2021, by Quinn Roberts, Interview magazine, February 17, 2021
Related event:
Mazza Writer in Residence Brontez Purnell and Friends:
Cisco Guzman, Mason J., and Melissa Merin
queer writers of color reading and roundtable
Thursday, April 8, 7:00 pm Pacific Time
remote access event, free and open to the public
Event contact: 
The Poetry Center
Event email: 
Event sponsor: 
The Poetry Center, Mazza Writer in Residence
Tags
Upcoming Events
Saturday, September 23, 2023
Saturday, September 30, 2023
Thursday, October 05, 2023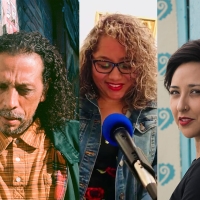 Thursday, October 05, 2023