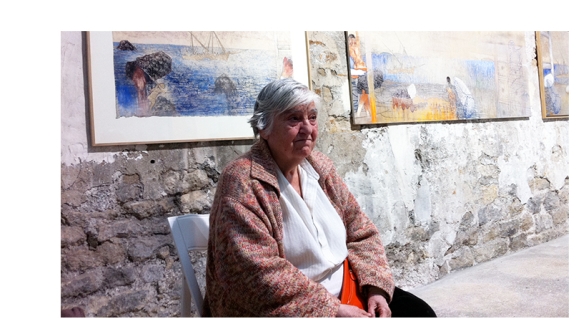 Etel Adnan, a Memorial Tribute: with Zaina Alsous, David Buuck, Naz Cuguoğlu, Fady Joudah, Stefania Pandolfo, Camille Roy
Saturday, May 14, 2022
Event Time
12:00 p.m. - 02:00 p.m. PT
Cost
Free and open to the public
Location
Medicine for Nightmares, 3036 24th Street, San Francisco
Contact Email
poetry@sfsu.edu
Overview
This program also available via live-stream and at the same link after the event.
Presented by The Poetry Center in conjunction with the Tripwire Cross-Cultural Poetics Series
Please join us for The Poetry Center's memorial tribute to our beloved friend and teacher, Etel Adnan. We'll gather in person, with six guest artists, poets and writers, both those who knew Etel personally and others influenced by her life and work. Audience can attend either in person (limited to 50, RSVP required) or watch via live-stream. Featured participants: Zaina Alsous, David Buuck, Naz Cuguoğlu, Fady Joudah, Stefania Pandolfo, and Camille Roy. Presented in conjunction with the Tripwire Cross-Cultural Poetics Series.
Please note: proof of vaccination and mask are required in order to attend in person.
Etel Adnan (1925–2021) was born and raised in Beirut, Lebanon. Her mother was a Greek from Smyrna, her father a high ranking Ottoman officer born in Damascus. In Lebanon, she was educated in French schools. She studied philosophy at the Sorbonne, in Paris, following World War II. In January 1955 she went to the United States to pursue post-graduate studies in philosophy at U.C. Berkeley, and Harvard. From 1958 to 1972, she taught philosophy at Dominican College of San Rafael, California. 
In 1972, she moved back to Beirut and worked as cultural editor for two daily newspapers—first for Al Safa, then for L'Orient le Jour. She stayed in Lebanon until 1976. In 1977, her novel Sitt Marie-Rose was published in Paris, and won the France-Pays Arabes award. This novel has been translated into more than 10 languages, and was to have an immense influence, becoming a classic of war literature. 
In 1977, Adnan, together with her life-partner, Simone Fattal, artist and publisher of The Post-Apollo Press, re-established herself in California, making Sausalito her home, with frequent stays in Paris.
Some twenty books of her poetry, fiction, and essays were published during Adnan's lifetime, garnering multiple awards, including the Griffin International Poetry Prize, 2020, for Time (shared with translator Sarah Riggs). In 2014, To look at the sea is to become what one is: An Etel Adnan Reader, in two large volumes edited by Brandon Shimoda and Thom Donovan, was published by Nightboat Books. That year, she was awarded the Chevalier des Arts et des Lettres, France's highest cultural honor.
In the later years of her life, Etel Adnan was embraced internationally by the art world, with numerous exhibitions of her paintings, work for textiles, prints, and unique hand-painted books, many interviews and features in international art media, and multiple catalogs and monographs devoted to her art. The exhibition "Etel Adnan: Light's New Measure" gathered her work at the Guggenheim Museum in New York in winter 2021–22.
(Adapted, with additions, from the biography at eteladnan.com)
Photo: Etel Adnan by Norma Cole, 19 June 2011, at Irving Petlin exhibition, Éspace topographie de l'art, Paris.
Etel Adnan, interview with Lisa Robertson, BOMB, April 1, 2014
Etel Adnan at home, talking on painting and writing with Judith Benhamou-Huet
Etel Adnan, New York Times obituary, by Nana Asfour, Nov 14, 2021
Etel Adnan, ArtNews obituary, by Tessa Solomon, Nov 15, 2021
The Art World's Tainted Love for "Discovering" Artists: the Case of Etel Adnan, by Naz Cuguoğlu, Hyperallergic, March 6, 2022
The Mountain at the Center: Reflections on Etel Adnan, Small Press Traffic, Feb. 27, 2022
Tags
Upcoming Events
Saturday, December 09, 2023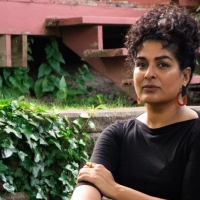 Saturday, December 09, 2023