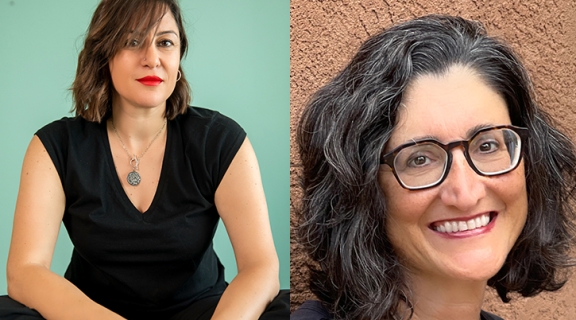 Zeina Hashem Beck and Farnaz Fatemi, reading and in conversation
Wednesday, October 12
Event Time
06:00 p.m. - 07:30 p.m.
Cost
Free and open to the public
Location
The Poetry Center, Humanities 512, San Francisco State University
Contact Email
poetry@sfsu.edu
Overview
This program also available via live-stream and at the same link after the event.
 
Masks are requested for those attending in person.
Co-presented by The Poetry Center and the Center for Iranian Diaspora Studies, SF State.
Zeina Hashem Beck is a Lebanese poet. Her third full-length poetry collection, O, was published by Penguin Books in July 2022. Her collection Louder than Hearts won the 2016 May Sarton New Hampshire Poetry Prize. She's also the author of 3arabi Song, winner of the 2016 Rattle Chapbook prize, There Was and How Much There Was, a 2016 Laureate's Choice selected by Carol Ann Duffy, and To Live in Autumn, winner of the 2013 Backwaters Prize. Her work has appeared in The Atlantic, The Nation, The New York Times, Poetry, Ploughshares, World Literature Today, the Academy of American Poets, and elsewhere. Educated in Arabic, English, and French, Zeina has a BA and an MA in English Literature from the American University of Beirut. Zeina's invented The Duet, a bilingual poetic form where English and Arabic exist separately and in relationship to each other. Her poem "Maqam" won Poetry Magazine's 2017 Frederick Bock Prize. She's the co-creator and co-host, with poet Farah Chamma, of Maqsouda, a podcast about Arabic poetry. After a lifetime in Lebanon and a decade in Dubai, Zeina recently moved to California.
Farnaz Fatemi is an Iranian American poet, editor and writing teacher in Santa Cruz, CA. Her debut book, Sister Tongue, won the 2021 Stan and Tom Wick Poetry Prize (selected by Tracy K. Smith) and is forthcoming from Kent State University Press. She is a member and cofounder of The Hive Poetry Collective, which presents a weekly radio show and podcast in Santa Cruz County and hosts readings and poetry-related events. Her poetry and prose appears in Poets.org (Poem-a-Day), Pedestal Magazine, Grist Journal, Catamaran Literary Reader, Crab Orchard Review, SWWIM Daily, Tahoma Literary Review,Tupelo Quarterly, phren-z.org, and several anthologies (including, most recently, Essential Voices: Poetry of Iran and its Diaspora, My Shadow Is My Skin: Voices of the Iranian Diaspora and The BreakBeat Poets Vol. 3: Halal If You Hear Me). She is a member of the Community of Writers, and taught Writing at the University of California, Santa Cruz, from 1997-2018.
Tags
Upcoming Events
Saturday, September 23, 2023
Saturday, September 30, 2023
Thursday, October 05, 2023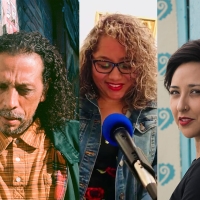 Thursday, October 05, 2023