New Voice Series, featuring Raul Ruiz, with Zêdan Xelef, Alexiz Angel Romero, and Bianca White
Thursday, May 05
Event Time
07:00 p.m. - 08:30 p.m.
Cost
Free and open to the public
Location
The Poetry Center, Humanities 512, San Francisco State University
Contact Email
poetry@sfsu.edu
Overview
This program also available via live-stream and at the same link after the event.
The Poetry Center presents the New Voice Series, in its second annual iteration. The series features a poet alum of SF State, in combination with a current SF State Creative Writing graduate student poet, and (this year) two undergraduate student poets at SF State, to each read their work and engage in conversation. Participants in the series are selected by Poetry Center student staff. For this year's event, Raul Ruiz will appear as featured poet, along with Zêdan Xelef, Alexiz Angel Romero, and Bianca White. Please join us!
Please note: proof of vaccination and mask are required in order to attend in person.
And then one day we decided we weren't children anymore, we decided we weren't going to drag our lives across this country of fences to live out the heartbreaking demands of walls. We weren't going to become men, weren't going to wake up in the burning mouth of last night's whiskeys for the rest of our yellow days like our fathers and the broken guns before them. We weren't going to wait until our dust forgave us in death to touch with eager hands our wings. We weren't going to forget the piano part of our bodies, the part of us every flower touched when we slept, the corner of our hearts more secret than poems (do you think you've ever held a poem in your hand? Prove it. Prove it with the eager shadow of your shadow)
—Raul Ruiz
Raul Ruiz is a Spanish interpreter who lives and works in San Francisco. An MFA graduate of SF State (2015), Ruiz has a chapbook titled Mustard forthcoming in 2022 from Drop Leaf Press.
Zêdan Xelef is a poet, translator, and cultural preservationist from Mesopotamia. His poems and translations have appeared in Poetry, Los Angeles Review of Books, Words Without Borders, World Literature Today, Tripwire Journal, Asymptote, Epiphany, and Plume, among others. His translation of Selim Temo's Selected Poems from Kurmanji, in collaboration with Alana Marie Levinson-LaBrosse, comes out from Pinsapo Press in Fall 2022. He attends the MFA program at San Francisco State University. 
Alexiz Angel Romero is a queer, gender-nonconforming, Latinx poet from Oxnard, CA, studying for their BS in Chemistry and minor in Queer Ethnic Studies at San Francisco State University
Bianca White is currently a Creative Writing and Liberal Studies major at SFSU. She lives in the East Bay with her mom and sisters. Her poem "Now that I'm Blooming: Things I Hope to Learn" can be found in Transfer Magazine Issue 122. You'll find her drinking boba milk tea and writing more poetry!
Tags
Upcoming Events
Saturday, September 23, 2023
Saturday, September 30, 2023
Thursday, October 05, 2023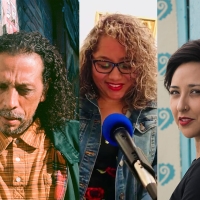 Thursday, October 05, 2023