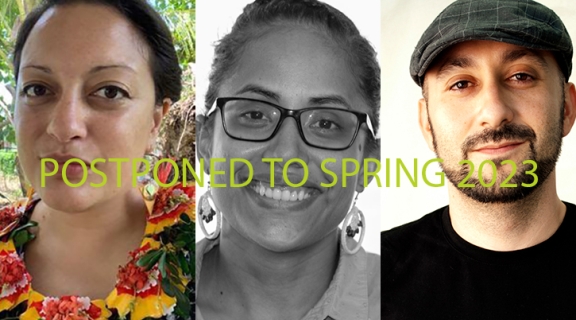 CANCELLED—to be rescheduled: Indigenous Pacific Islander Eco-Literatures: Leora Kava, Craig Santos Perez, Kathy Jetñil-Kijiner and guests
Thursday, October 27, 2022
Event Time
06:00 p.m. - PT
Location
The Poetry Center, Humanities 512, San Francisco State University
Contact Email
poetry@sfsu.edu
Overview
NOTE: THIS EVENT HAS BEEN POSTPONED, TO BE RE-SCHEDULED
Co-presented by The Poetry Center and Critical Pacific Islands & Oceania Studies, SF State
Join the editors and guest contributors for a celebratory reading and conversation, presenting work from and talking about the issues raised by this first-ever anthology of contemporary eco-literature gathering the work of one hundred Indigenous writers from Polynesia, Melanesia, Micronesia, and the global Pacific diaspora. Indigenous Pacific Islander Eco-Literatures is newly in print from the University of Hawaii Press.
The urgent voices in this book call us to attention—to action!—at a time of great need. Pacific ecologies and the lives of Pacific Islanders are currently under existential threat due to the legacy of environmental imperialism and the ongoing impacts of climate change. While Pacific writers celebrate the beauty and cultural symbolism of the ocean, islands, trees, and flowers, they also bravely address the frightening realities of rising sea levels, animal extinction, nuclear radiation, military contamination, and pandemics.
Indigenous Pacific Islander Eco-Literatures reminds us that we are not alone; we are always in relation and always ecological. Humans, other species, and nature are interrelated; land and water are central concepts of identity and genealogy; and Earth is the sacred source of all life, and thus should be treated with love and care. With this book as a trusted companion, we are inspired and empowered to reconnect with the world as we navigate towards a precarious yet hopeful future.
Kathy Jetñil-Kijiner (editor) is Climate Envoy for the Republic of the Marshall Islands and the director of Jo-Jikum, an environmental nonprofit.
 
Leora (Lee) Kava (editor) is assistant professor of Critical Pacific Islands and Oceania studies at San Francisco State University.

Craig Santos Perez (editor and series editor) is professor in the English department at the University of Hawaiʻi at Mānoa.
Tags
Upcoming Events
Saturday, December 09, 2023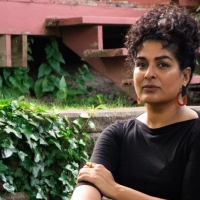 Saturday, December 09, 2023