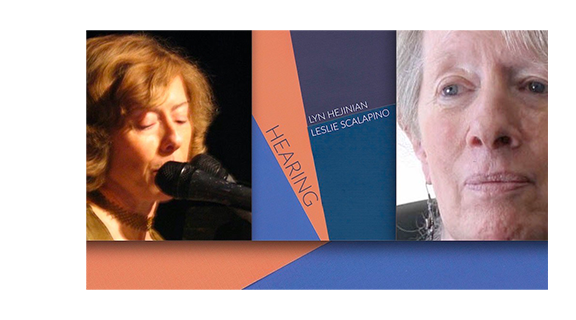 Hearing—Lyn Hejinian and Leslie Scalapino: a collective reading and conversation
Saturday, May 15
Event Time
12:00 p.m. - 01:30 p.m.
Location
Remote Access Event
Contact Email
poetry@sfsu.edu
Overview
With emcee, Rachael Wilson
Cosponsored by The Poetry Center and Litmus Press
Video live-streamed to our YouTube channel. Media captioning available there after the event.
"The forming of the five senses is a labor of the entire history of the world down to the present." — Karl Marx
Hearing is the long-awaited second book in a series of collaborations by Lyn Hejinian and Leslie Scalapino organized around each of the five senses. Their first collaboration in this series, Sight, was published by Edge Books in 1999. Hejinian and Scalapino were nearing the completion of Hearing when Scalapino died in 2010. Ten years later, the book is published for the first time, with a preface by Hejinian and an afterword by Judith Goldman.
The Poetry Center and Litmus Press join forces to celebrate this publication, with a collective reading of sections from the book as selected by Lyn Hejinian. An all-star cast of participants who'll be reading from Hearing include E. Tracy Grinnell, Michael Cross, Lindsay Choi, Simone White, Eric Falci, Eileen Myles, Renee Gladman, Myung Mi Kim, Judith Goldman, and Tom White, along with Lyn Hejinian. The readings will be followed by a conversation between the readers and in response to questions from the audience.
Leslie Scalapino (1947-2010) was born in Santa Barbara, California, and raised in Berkeley. She authored thirty books of poetry, prose, inter-genre-fiction, plays, and essays, including a collaboration with artist Kiki Smith, The Animal is in the World like Water in Water (Granary Books, 2010); It's go in horizontal/Selected Poems, 1974-2006 (University of California Press, 2008); Day Ocean State of Stars' Night (Green Integer, 2007); Zither and Autobiography (Wesleyan University Press, 2003); It's Go In/ Quiet illumined Grass/ Lands (The Post-Apollo Press, 2002); a collaboration with the artist Marina Adams, The Tango (Granary Books, 2001); Orchid Jetsam (Tuumba, 2001); and Sight (Edge Books, 1999), a collaboration with the poet Lyn Hejinian. Her long poem way (North Point Press, 1988) won the Poetry Center Book Award, the Lawrence Lipton Prize, and the American Book Award from the Before Columbus Foundation. Scalapino taught at the Naropa Institute, Bard College, Mills College, and UC San Diego. She was the editor and founder of O Books.
Lyn Hejinian is a poet, essayist, and translator. She is the author of over twenty-five volumes of poetry and critical prose, including Positions of the Sun (Belladonna, 2019); Tribunal (Omnidawn Books, 2019); The Unfollowing (Omnidawn Books, 2016); A Border Comedy (Granary Books, 2001); Slowly (Tumba Press, 2002); The Beginner (Tumba Press, 2002); The Fatalist (Omnidawn, 2003), Saga/Circus (Omnidawn, 2008); The Book of a Thousand Eyes (Omnidawn, 2012); and The Language of Inquiry (University of California Press, 2000). Her groundbreaking book of poetry, My Life, has had five reprintings from 1980–2002. With Barrett Watten, she is the co-editor of A Guide to Poetics Journal: Writing in the Expanded Field 1982–1998, and the related Poetics Journal Digital Archive (Wesleyan University Press, 2013/2015). She is co-director (with Travis Ortiz) of Atelos, a literary project commissioning and publishing cross-genre work by poets, and the co-editor (with Jane Gregory and Claire Marie Stancek) of Nion Editions, a chapbook press. From 2001–2020, Hejinian taught at the University of California, Berkeley; her scholarly work there and since is addressed principally to modernist, postmodern, and contemporary poetry and poetics, with a particular interest in avant-garde movements and the social practices they entail. In addition to her other academic work, she has long been involved in anti-privatization activism.
Photo of Leslie Scalapino by Erica Kaufman
Featured:
Hearing at Litmus Press
Event contact: 
The Poetry Center
Event sponsor: 
The Poetry Center and Litmus Press
Upcoming Events
Saturday, September 23, 2023
Saturday, September 30, 2023
Thursday, October 05, 2023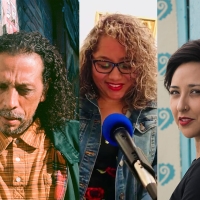 Thursday, October 05, 2023