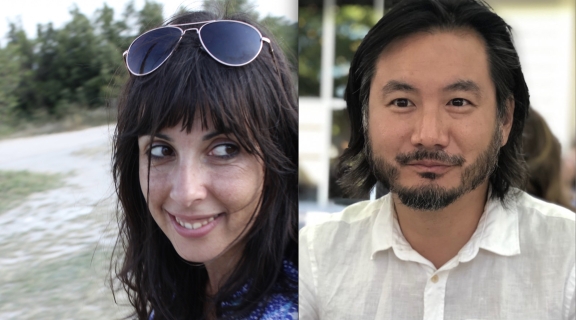 Youmna Chlala and Ken Chen, reading and in conversation
Thursday, April 01
Event Time
07:00 p.m. - 08:00 p.m.
Cost
Free and open to the public
Location
Remote access event
Contact Email
poetry@sfsu.edu
Overview
Watch the unedited video at YouTube before the finished program gets posted at Poetry Center Digital Archive
With emcee, Brent Awa Jensen
Supported by the National Endowment for the Arts
This remote-access event starts promptly at 7:00 pm Pacific Time and is free and open to the public. Media Captioning provided after the event, at our YouTube channel, and at Poetry Center Digital Archive. For other reasonable accommodations please contact poetry@sfsu.edu
The Poetry Center is delighted to welcome poets Youmna Chlala and Ken Chen, appearing from Brooklyn, New York. They will be reading from their work, then talking with each other, joined by emcee Brent Awa Jensen, and with questions from the audience.
First, we had to learn each other's languages.
This was the longest, most loving trial.
Then we undid our own.
—Youmna Chlala, from The Paper Camera
"This is a 'camera' work where the film keeps moving along people who're running from city to city, continent to continent, directed by "a young girl / [who] sticks her tongue / out at a gun." Covering, and uncovering Lebanon, she extracts remarkable poetry from a continuously exploding war."—Etel Adnan
Youmna Chlala is an artist and writer born in Beirut and based in New York. She is the author of the poetry collection, The Paper Camera (Litmus Press, 2019), with writing appearing in BOMB, Guernica, Prairie Schooner, Bespoke, Aster(ix), CURA, and MIT Journal for Middle Eastern Studies. As an artist, she has exhibited at the Hayward Gallery, The Drawing Center, Rotterdam International Film Festival, Dubai Art Projects, Hessel Museum of Art and MAK Center for Art and Architecture, and participated in the 33rd Bienal de São Paulo, 7th LIAF Biennial in Norway, and 11th Performa Biennial. She is co-editing a new series for Coffee House Press entitled Spatial Species and is a Professor in the Humanities & Media Studies and Writing Departments at the Pratt Institute.
If all the dead exist in the underworld, does the underworld occur outside of time, what does that mean for your father, through what magic will you locate your father who has only just arrived, has always only just departed, only just deported, did you don a suit and loiter on the highway your hands gripping a giant gilt-framed photograph of him and what questions did you interview at all who passed those vampires and angels you encountered, can you state for the record the moan you heard the ghosts emit across the nation-state,,, wuaahh buu,,, ...
—Ken Chen, from "Locate"
Ken Chen was a 2019–2020 Cullman Fellow at the New York Public Library, where he worked on his next book Death Star. The book follows his journey to the underworld to rescue his father and his encounters there with those destroyed by colonialism. He was the 2009 winner of the Yale Series of Younger Poets Award for his book Juvenilia, selected by Louise Glück. Chen served as the Executive Director of the Asian American Writers' Workshop from 2008 to 2019 and co-founded the cultural website Arts & Letters Daily and CultureStrike, a national arts organization dedicated to migrant justice. A graduate of Yale Law School, he successfully defended the asylum application of an undocumented Muslim high school student from Guinea detained by Homeland Security.
Featured:
"Igniting the Relational: Youmna Chlala Interviewed by Mónica de la Torre," at BOMB, Jan 21, 2021
Ken Chen, Writing hallucinogenic hermetica about colonialism
Tags
Upcoming Events
Saturday, September 23, 2023
Saturday, September 30, 2023
Thursday, October 05, 2023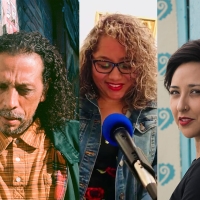 Thursday, October 05, 2023