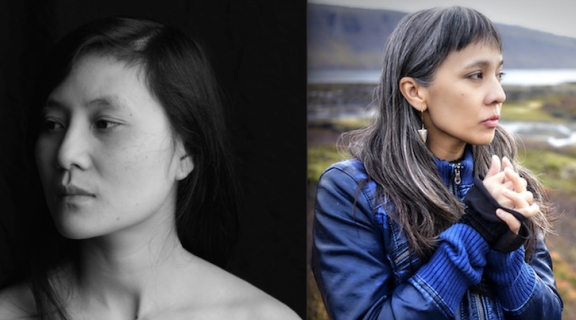 Vi Khi Nao and Dao Strom, reading and in conversation with Isabelle Thuy Pelaud
Wednesday, February 24
Event Time
02:00 p.m. - 03:00 p.m.
Cost
Free and open to the public
Location
Remote access event
Contact Email
poetry@sfsu.edu
Overview
With emcee, Isabelle Thuy Pelaud
Co-sponsored with DVAN@SFSU, the Diasporic Vietnamese Artists Network
Supported in part by the National Endowment for the Arts
This remote-access event starts promptly at 2:00 pm Pacific Time, and is free and open to the public. Real-Time Captioning link will be provided at the event. Media Captioning provided after the event, at our YouTube channel and at Poetry Center Digital Archive. For other reasonable accommodations please contact poetry@sfsu.edu
Prolific and multi-faceted writers and artists Vi Khi Nao and Dao Strom will be presenting a variety of work and engaging in conversation with one another and with founding director of DVAN and Professor of Asian American Studies at SF State, Isabelle Thuy Pelaud as emcee. We are delighted to work in collaboration once again with DVAN@SFSU for this event. Please note early start time.
"Vi Khi Nao's language isn't made of words like everyone else's." —Joanna Ruocco
"We are no longer used to the heart's engine revving with such quiet, lonely, insistent, anatomical intensity. Not so many people have traveled in Vi Khi Nao's language mind before. Here is your ticket, a vagrant fragrance."
—C.D. Wright
Vi Khi Nao is the author of four poetry collections: Human Tetris (11:11 Press, 2019), Sheep Machine (Black Sun Lit, 2018), Umbilical Hospital (Press 1913, 2017), The Old Philosopher (winner of the Nightboat Prize for 2014), and of the short stories collection, A Brief Alphabet of Torture (winner of the 2016 FC2 Ronald Sukenick Innovative Fiction Prize), and the novel, Fish in Exile (Coffee House Press, 2016). Her work includes poetry, fiction, film and cross-genre collaboration. The Proscenium, "a satire on production and feminism [that] acts as an antithetical or opposition to male's prolixity on the canvas of the literary canon," is just out from Ugly Duckling Presse. Vi Khi Nao was the Fall 2019 fellow at the Black Mountain Institute, in Las Vegas, Nevada. More here.
"Dao Strom's beautiful poem/memoir/travelog/contemplation, presented in fully bilingual format with Vietnamese translation by Ly Thuy Nguyen, takes us to another place in the struggle: the struggle within the self, for origin, for belonging, for a state of home.... Strom's fraught and beautiful journey, with its clash and melding of language, allows us to find in the impossibility of homeliness, in the elusiveness of origin, the persistent intelligence of the one who seeks, and who is alive." —Genève Chao, on You WIll Always Be Someone From Somewhere Else
Dao Strom is an artist who works with three "voices"—written, sung, visual—to explore hybridity and the intersection of personal and collective histories. She is the author of the poetry collection, Instrument (Fonograf Editions, 2020), "an experiment in multimodal poetics—inhabiting a synergistic blend of poetry, music, and visual art," with its musical companion piece, Traveler's Ode (Antiquated Future Records, 2020); a bilingual poetry-art book, You Will Always Be Someone From Somewhere Else (AJAR Press, 2018), which was a finalist for the 2019 Firecracker Award in Poetry; a hybrid-form memoir, We Were Meant To Be a Gentle People, and song cycle, East/West (2015); and two books of fiction, The Gentle Order of Girls and Boys (Counterpoint Press, 2019, 2006) and Grass Roof, Tin Roof (Mariner Books, 2003). 
Strom is also the co-founder and creative director of She Who Has No Master(s), a collective project of women writers of the Vietnamese diaspora and a program of the Diaspora Vietnamese Artists Network; and De-Canon, a library/social engagement art project highlighting books and works by writers of color. Born in Vietnam, Strom grew up in the Sierra Nevada foothills of northern California and is a graduate of the Iowa Writers Workshop. She lives in Portland, Oregon. More here.
Featured: 
Vi Khi Nao interviewed by Louis Elliot, at BOMB, April 16, 2020
"Artifice Is Part of the Process: An Interview with Dao Strom," by Meghan Lamb, at LA Review of Books, March 16, 2020
"Living in Dreams: Isabelle Thuy Pelaud in Conversation with Vi Khi Nao," at DiaCritics, February 7, 2019
Tags
Upcoming Events
Saturday, September 23, 2023
Saturday, September 30, 2023
Thursday, October 05, 2023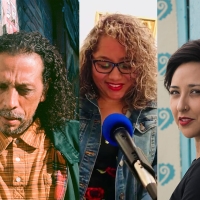 Thursday, October 05, 2023