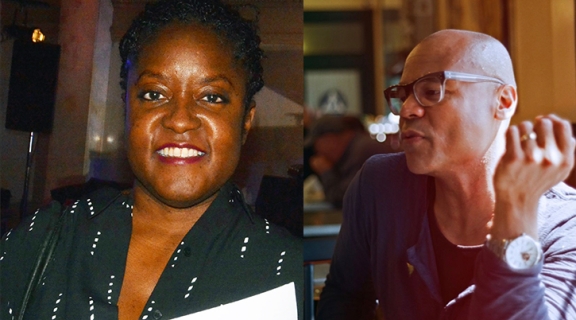 Undisciplining the Fields, Ronaldo V. Wilson with Tonya M. Foster in conversation
Thursday, October 20, 2022
Event Time
06:00 p.m. - 07:30 p.m. PT
Cost
Free and open to the public
Location
The Poetry Center, Humanities 512, San Francisco State University
Contact Email
poetry@sfsu.edu
Overview
NOTE: WEBINAR BROADCAST ABANDONED, USE LIVESTREAM LINK BELOW
Program also available via live-stream and at the same link after the event.
Masks are requested for those attending in person
Undisciplining the Fields: Study, Performance, and (Re:)Creation
Undisiciplining the Fields is a new conversation, reading (and sometimes performance) series that will invite writers, artists, filmmakers, and scholars from a range of fields to discuss and share their cross-disciplinary practices and thinking. Initiated by George and Judy Marcus Chair in Poetry Tonya M. Foster, in collaboration with The Poetry Center, the series is envisioned as an unruly exploration of the ways that practice expertise is developed and encouraged through interest, study, and accident; and of the ways that creativity motivates / instigates investigations of the possible. Foster's guest for this premier iteration of Undisciplining the Fields is Ronaldo V. Wilson, whose body of work in writing and drawing, movement and performance, will serve as the starting point for these two Black artists' improvised and intensified, focusing and generative colloquy. Please join us.
Ronaldo V. Wilson, PhD, is the author of Narrative of the Life of the Brown Boy and the White Man (University of Pittsburgh, 2008), winner of the 2007 Cave Canem Prize., Poems of the Black Object (Futurepoem Books, 2009), winner of the Thom Gunn Award for Gay Poetry and the Asian American Literary Award in Poetry in 2010.  His latest books are Farther Traveler: Poetry, Prose, Other (Counterpath Press, 2015), finalist for a Thom Gunn Award for Gay Poetry and Lucy 72 (1913 Press, 2018). Co-founder, with poets Dawn Lundy Martin and Duriel E. Harris, of the Black Took Collective, Wilson is also a mixed media artist, dancer and performer. Wilson is Associate Professor of Creative Writing and Literature at U.C. Santa Cruz, serving on the core faculty of the Creative Critical PhD Program, and co-directing the Creative Writing Program.
In her review of Narrative of the Life of the Brown Boy and the White Man, Claudia Rankine writes, "Ronaldo V. Wilson's prose poems are alternately tough and tender probes into the underbelly of their psyches. With audacity and wit reminiscent of the work of Hilton Als, bell hooks, Frantz Fanon, and James Baldwin, Wilson decodes sociopolitical narratives around race, sexuality, and class. Identity, Wilson seems to say, is only a collection of stories—the ones told about us in battle with the ones we tell ourselves. What we have here is palpable consciousness: a stunning achievement."
Tonya M. Foster, the George and Judy Marcus Endowed Chair in Poetry at San Francisco State University, is the author of the poetry collection A Swarm of Bees in High Court (Belladonna*, 2015) and the bilingual poetry chapbook La grammaire des os (joca seria, 2016). She is coeditor of the essay collection Third Mind: Creative Writing through Visual Art (Teachers & Writers Collaborative, 2002). Forthcoming are a poetry chapbook, A History of the Bitch (AHOTB) (Sputnik & Fizzle), and the full-length collection Thingification (Ugly Duckling Presse). With the support of a Creative Capital Award, Foster is also developing a multimedia, multi-genre project titled Monkey Talk, that studies issues of race, paranoia, surveillance, and aesthetics.
Video:
Ronaldo V. Wilson in conversation and reading with Angel Dominguez for The Poetry Center, October 16, 2021
Tonya M. Foster's Harvard Ratcliffe Institute 2021 Fellow presentation, "AHOTB"
Tags
Upcoming Events
Saturday, December 09, 2023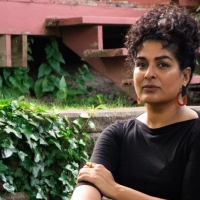 Saturday, December 09, 2023