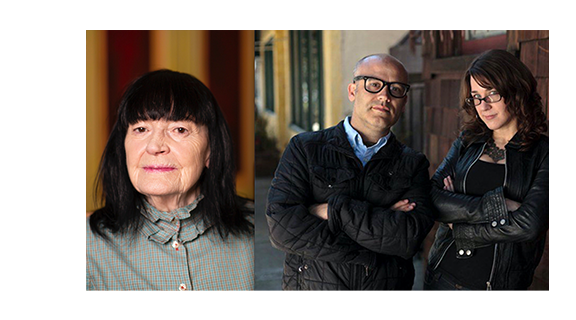 Roxanne Dunbar-Ortiz, Amy Sonnie and James Tracy, reading and in conversation
Friday, September 10
Event Time
07:00 p.m. - 08:30 p.m.
Location
Remote Access Event
Contact Email
poetry@sfsu.edu
Overview
With emcee Patrick Marks
Guest poets Leticia Del Toro and Josiah Luis Alderete
Copresented by The Poetry Center, the Howard Zinn Book Fair, and The Green Arcade
Video live-streamed to our YouTube channel. Media captioning available there after the event.
Three outstanding Bay Area writer-activists, reading and in conversation on the radical potential written in the margins of history. Roxanne Dunbar-Ortiz, renowned historian and activist (An Indigenous Peoples' History of the United States), reads from Not "A Nation of Immigrants": Settler Colonialism, White Supremacy, and a History of Erasure and Exclusion (Beacon Press, 2021) and Amy Sonnie and James Tracy read from their newly updated Hillbilly Nationalists, Urban Race Rebels and Black Power: Interracial Solidarity in 1960s-70s New Left Organizing (Melville House, 2011/revised edition 2021). Following their readings, the writers engage in conversation with one another and the audience. With emcee Patrick Marks, and guest poets Leticia Del Toro and Josiah Luis Alderete. Copresented by the Howard Zinn Book Fair, The Green Arcade, and The Poetry Center. 
"...This myth-shattering book [Dunbar-Ortiz's Not "A Nation of Immigrants] addresses one of the most pressing challenges of our time. If there is hope for transformation, it is through the careful, systematic work that this book exemplifies by examining the roots of racism and structural inequality, and bringing forward alternative narratives and movements." —Alexandra Délano Alonso
 
"Historian Roxanne Dunbar-Ortiz rightly argues that the United States is not 'a nation of immigrants but, more accurately, a nation of colonizers. A must-read." —Nick Estes (Lakota)
 
"Hillbilly Nationalists recovers the voices of white, working-class radicals who prove abolitionist John Brown's legacy is alive and well... Focusing on the 1960s–70s and touching on issues just as relevant today, these authors challenge the Left not to ignore white America, while challenging white America to recognize its allegiance to humanity and justice, rather than the bankrupt promises of conservative politicians." —Angela Y. Davis
Roxanne Dunbar-Ortiz grew up in rural Oklahoma in a tenant farming family. She has been active in the international Indigenous movement for more than 4 decades and is known for her lifelong commitment to national and international social justice issues. Dunbar-Ortiz is the winner of the 2017 Lannan Cultural Freedom Prize and is the author or editor of many books, including An Indigenous Peoples' History of the United States, a recipient of the 2015 American Book Award. She lives in San Francisco. Connect with her at reddirtsite.com or on Twitter @rdunbaro.
Amy Sonnie is an activist, educator, and librarian who has worked with U.S. grassroots social justice movements for the past seventeen years. She is co-founder of the National Center for Media Justice. Her first book, Revolutionary Voices, an anthology by and for queer and transgender youth (Alyson Books, 2000), is banned in libraries in New Jersey and Texas and appears on the American Library Association's list of "Top Ten Most Frequently Challenged Books." Her work has appeared in the San Fransisco Bay Guardian, Alternet, Philadelphia Inquirer, Clamor, the Oxygen Television Network, Bitch magazine, and The Sojourner.
James Tracy is a long-time social justice organizer in the San Francisco Bay Area. He is the founder of the San Francisco Community Land Trust and has been active in the Eviction Defense Network and the Coalition On Homelessness, SF. He has edited two activist handbooks for Manic D Press: The Civil Disobedience Handbook and The Military Draft Handbook. His articles have appeared in Left Turn, Race Poverty and the Environment, and Contemporary Justice Review.
Event contact: 
The Poetry Center
Event phone: 
Event sponsor: 
The Poetry Center, The Green Arcade, and Howard Zinn Book Fair
Tags
Upcoming Events
Saturday, September 23, 2023
Saturday, September 30, 2023
Thursday, October 05, 2023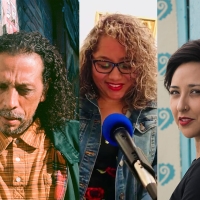 Thursday, October 05, 2023