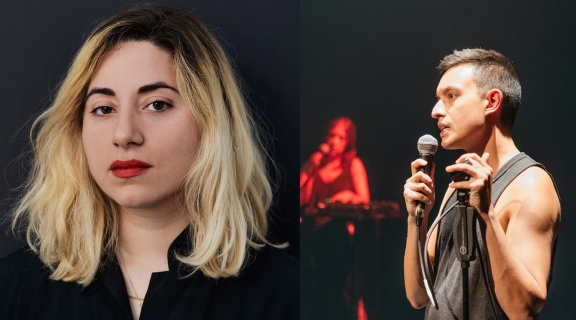 Poetry & Grief: Kyle Dacuyan and Mirene Arsanios, at Medicine for Nightmares
Saturday, April 08
Event Time
07:30 p.m. - 09:00 p.m.
Cost
Free and open to the public
Location
Medicine for Nightmares, 3036 24th Street, San Francisco
Contact Email
poetry@sfsu.edu
Overview
"and so much lost      you'd think / beauty had left a lesson": Poetry & Grief
Under a line by Ed Roberson (from "once the magnolia has blossomed" in Asked What Has Changed, Wesleyan UP 2021), The Poetry Center co-presents with our friends Medicine for Nightmares this special program featuring two outstanding poets from New York City. Kyle Dacuyan and Mirene Arsanios will each read from their work and engage in conversation with one another and the audience. This is one of multiple Poetry Coalition programs across the country this Spring 2023 around our common theme, supported by a grant from the Andrew W. Mellon Foundation to the Academy of American Poets in support of Poetry Coalition programs.
Kyle Dacuyan is the author of INCITEMENTS (Ugly Duckling Presse, 2023), recipient of the 2023 Cy Twombly Award in Poetry from the Foundation for Contemporary Arts, a 2021 NEA Fellow in Creative Writing, and Executive Director of The Poetry Project at St. Marks Church in New York City. In 2024, he will present a solo performance work, Dad Rock, at The Shed in NYC. Photo by Jauhien Sausnou.
Mirene Arsanios is the author of The City Outside the Sentence (Ashkal Alwan, 2015), Notes on Mother Tongues (UDP, 2019), and more recently, The Autobiography of a Language (Futurepoem, 2022). She has contributed essays and short stories to e-flux journal, Vida, The Brooklyn Rail, LitHub, and Guernica, among others. Her writing was featured collaboratively at the Sharjah Biennial (2017) and Venice Biennial (2017), as well as in various artist books and projects. Arsanios co-founded the collective 98weeks Research Project in Beirut and is the founding editor of Makhzin, a bilingual English/Arabic magazine for innovative writing. She teaches at Pratt Institute and holds an MFA in Writing from the Milton Avery Graduate School for the Arts at Bard College. With Rachel Valinsky, she coordinated the Friday nights reading series at The Poetry Project from 2017-19. She lives and works in Brooklyn.
Video, earlier programs in the Poetry Coalition series: 
Poetry & Disability Justice — Krip-Hop Nation: March 5, 2022
Poetry & Environmental Justice — Ed Roberson, Tiffany Higgins, Eli Clare, Lehua M. Taitano: April 17, 2021
Poetry & Politics — In Honor of Audre Lorde and Pat Parker, featuring Judy Grahn, Jewelle Gomez, Avotcja, Arisa White, Leila Weefur, Angela Hume: November 5, 2020
Poetry & Democracy — Brandon Shimoda and Aisuke Kondo: March 7, 2019
Poetry & The Body — Lily Hoang and Jackie Wang: March 3, 2018
Poetry & The Body — Jackie Wang and Lily Hoang: March 1, 2018
Poetry & Migration — Margaret Randall, Eight Decades of Cuban Poetry: March 30, 2017
Poetry & Migration — David Boyce, Hafez Modirzadeh, Marshall R. Trammell: March 16, 2017
Poetry & Migration — Asya Abdrahman, Faith Adiele, Tonya M. Foster: March 8, 2017
Poetry & Migration — Layli Long Soldier and Truong Tran: March 2, 2017
Upcoming Events
Saturday, September 23, 2023
Saturday, September 30, 2023
Thursday, October 05, 2023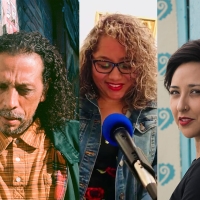 Thursday, October 05, 2023