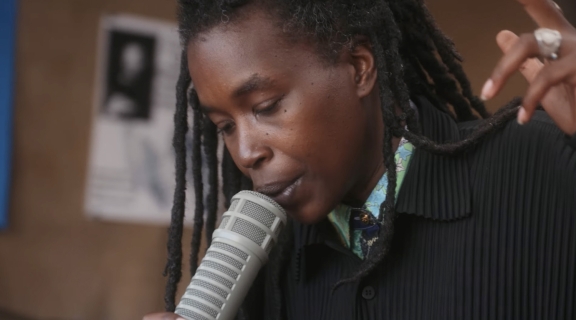 Moor Mother: Anthropology of Consciousness, with local guest poet/artists
Thursday, December 15, 2022
Event Time
07:00 p.m. - 09:30 p.m. PT
Cost
Free and open to the public
Location
The Lab, 2948 16th Street (at Capp St.), San Francisco
Contact Email
poetry@sfsu.edu
Overview
Masks are requested for those attending in person. 
7:00 pm Presentation (Workshop)
8:00 pm Performance / Talk (Moor Mother)
Join us for the opening night of this highly anticipated 3-day Moor Mother Residency at The Lab, in San Francisco's Mission District (one half-block east of 16th-Mission BART station — map).
This evening's events, co-presented by The Lab and The Poetry Center, are free and open to the public; SOLD OUT.
Camae Ayewa (a.k.a. Moor Mother) works with local guest poet/artists alex cruse, Jemma Decristo, Kevin CK Lo, Tatiana Luboviski-Acosta, Leila Weefur, and Zêdan Xelef on a voice and sound workshop. They create a new work together and perform it — workshopping the anthropology of consciousness, and developing the sixth sense. Audiences are welcome to observe the workshop in advance of the performance. Moor Mother also performs a solo set.
Moor Mother. The songwriter, composer, vocalist, poet, and educator Camae Ayewa spent years organizing and performing in Philadelphia's underground music community before moving to Los Angeles to teach composition at the University of Southern California's Thornton School of Music. In 2016, she released Fetish Bones, her debut album as Moor Mother (alongside a book of poetry sharing that title), and has since put out an abundance of acclaimed music, both as a solo artist and in collaboration with other musicians who share her drive to dig up the untold. Jazz Codes, her latest album, follows Black Encyclopedia of the Air, along with multiple releases with the bands Irreversible Entanglements (free jazz ensemble) and 700 Bliss (duo, with dj haram), among a host of artists in conspiracy.
Audio:
Black Quantum Futurism Bandcamp
Irreversible Entanglements Bandcamp
Moor Mother Residency at The Lab:
Tickets for Irreversible Entanglements & 700 Bliss (December 16)
Tickets for Moor Mother Ensemble (December 17)
Drum Listens to Heart exhibition at The Wattis Institute
Black Quantum Futurism website
Tags
Upcoming Events
Saturday, December 09, 2023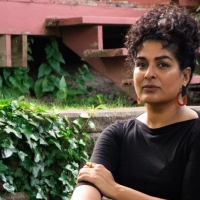 Saturday, December 09, 2023