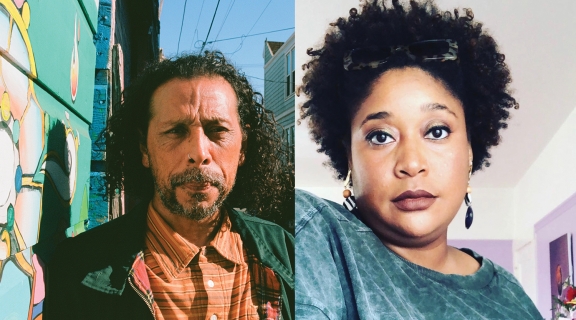 Mazza Writer in Residence Josiah Luis Alderete with Mimi Tempestt, reading and in conversation
Thursday, October 05, 2023
Event Time
01:00 p.m. - 03:00 p.m. PT
Cost
Free and open to the public
Location
The Poetry Center, Humanities 512, San Francisco State University
Contact Email
poetry@sfsu.edu
Overview
The Poetry Center's 11th Mazza Writer in Residence, Josiah Luis Alderete, in addition to being a guest artist in classes across the SF State campus during the first week in October 2023, presents his work in two public programs. The first of these, here in The Poetry Center reading room, will also feature Mimi Tempestt, debuting her new book, the delicacy of embracing spirals, and engaging in conversation with Alderete and their audience. The Mazza Writer in Residence program is supported by the Sam Mazza Foundation.
This event is free and open to the public. 
VIDEO for this program will be posted after editing at Poetry Center Digital Archive.
Josiah Luis Alderete is a Spanglish speaking full blooded Pocho poeta from La Mission de San Pancho. He is the author of the chapbook Fuchi Faces de los Estados Jodidos (Pinche Pandemico Poemas y Otra Nalga-Hyde Chismes) (2023) and Baby Axolotls and Old Pochos (Black Freighter Press, 2021), and runs the monthly Chicanx/Latinx reading series Speaking Axolotl. Alongside his bookstore sister Tân Khánh Cao, Josiah is the owner of Medicine for Nightmares Bookstore and Galeria on Calle 24, a decolonial portal of language, art, and communidad. Photo by Tatiana Luboviski-Acosta.
Mimi Tempestt (she/they) is a multidisciplinary artist, poet, and daughter of California. She has an MA in Literature from Mills College, and is currently a doctoral student in the Creative/Critical PhD in Literature at UC Santa Cruz. Her debut collection of poems, the monumental misrememberings, was published by Co-Conspirator Press in 2020. In 2021, she was selected for participation in the Lambda Literary Writers Retreat for Emerging LGBTQ Voices & writers, and was a Creative Fellow at The Ruby in San Francisco. She is the 2023 recipient of the SFF/Nomadic Press Literary Prize in Poetry. Her second book, the delicacy of embracing spirals, is out from City Lights Books, Fall 2023. Her works can be found in Foglifter, Interim Poetics, and The Studio Museum in Harlem.
Related event
Mazza Writer in Residence Josiah Luis Alderete with Sara Borjas and Aideed Medina
Videos
Tags
Upcoming Events
Saturday, December 09, 2023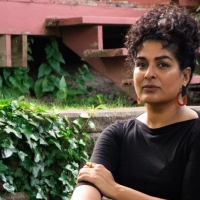 Saturday, December 09, 2023