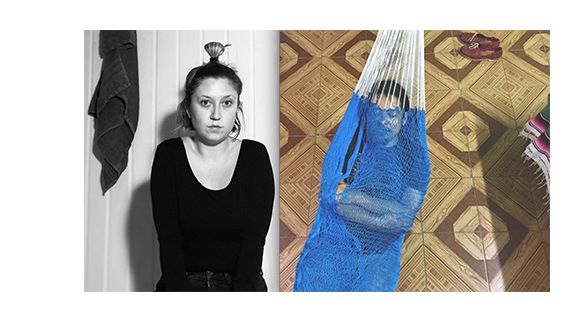 Mazza Writer in Residence Angel Dominguez and Hannah Kezema, reading and in conversation
Thursday, October 14, 2021
Event Time
01:00 p.m. - 02:00 p.m. PT
Location
The Poetry Center, Humanities Building, Room 512
Contact Email
poetry@sfsu.edu
Overview
Supported by the Sam Mazza Foundation
Video live-streamed to our YouTube channel. Media captioning available there after the event.
Poet Angel Dominguez, as The Poetry Center's 7th Mazza Writer in Residence, is a guest writer in classes across the SF State campus during the week of October 11, 2021. Theyl also present two public events, the first along with poet Hannah Kezema, an early afternoon reading, and conversation at The Poetry Center. Please join us.
I keep trying to write the same book, which is not a book. There's a Clarice Lispector translation of Agua Viva with a line that reads, "There is much I cannot tell you. I am not going to be autobiographical. I want to be 'bio.'"

I too want to be bio. Herewith you. What is the gesture needed to compress the body until it becomes the page? How might we (re) capture the spirit(s) of lived experiences, here? Sometimes I hear a training call out to the ocean from the redwoods. Sometimes, a small mountain town street calls out my name with no one there. Sometimes I let myself sleep and become the rain elsewhere.
—Angel Dominguez, from ROSESUNWATER
Angel Dominguez is a Latinx poet and artist of Yucatec Maya descent, born in Hollywood and raised in Van Nuys, CA, by their immigrant family. They're the author of ROSESUNWATER (The Operating System, 2021) and Black Lavender Milk (Timeless, Infinite Light 2015). Angel earned a BA from the University of California Santa Cruz and an MFA from the Jack Kerouac School of Disembodied Poetics at Naropa University in Boulder Colorado. You can find Angel's work online and in print in various publications. You can find Angel in the redwoods or ocean. Their third book, DESGRACIADO (the collected letters) is forthcoming with Nightboat Books in 2022.
Hannah Kezema is an artist who works across mediums. She is the author of chapbook, three (2017, Tea and Tattered Pages), and her work appears in Black Sun Lit, Grimoire, New Life Quarterly, Full Stop, Spiral Orb, and other places. She was the 2018 Arteles Resident of the Enter Text program, and she is currently the co-editor of Moving Parts Press's broadside series of Latinx and Chicanx poetry, in collaboration with Felicia Rice and Angel Dominguez. Listen to her songs at soundcloud.com/hannahkezema
Related event: 
Mazza Writer in Residence Angel Dominguez and Ronaldo V. Wilson, in performance and in conversation
Saturday, October 16, 7:00 pm, at Alley Cat Bookshop, 3036 24th Street, San Francisco
Event contact: 
The Poetry Center
Event phone: 
Event sponsor: 
The Poetry Center
Tags
Upcoming Events
Saturday, December 09, 2023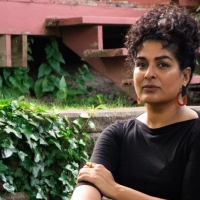 Saturday, December 09, 2023