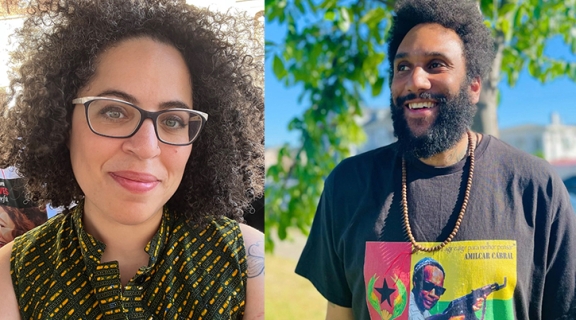 Kiki Petrosino and Tongo Eisen-Martin, Poetry Center Book Award Reading
Thursday, December 01, 2022
Event Time
06:00 p.m. - 07:30 p.m. PT
Cost
Free and open to the public
Location
Remote access event
Contact Email
poetry@sfsu.edu
Overview
Kiki Petrosino's book of poetry White Blood: A Lyric of Virginia (Sarabande Books, 2020) was selected for The Poetry Center Book Award by Tongo Eisen-Martin. Join us for this remote-access event, as both poets read from their work and engage in conversation with one another and their online audience. London Pinkney kindly joins the poets as emcee for this online-only event. 
Kiki Petrosino is the author of White Blood: a Lyric of Virginia (2020), three other poetry books, and most recently Bright: A Memoir (2022), all from Sarabande Books. She holds graduate degrees from the University of Chicago and the University of Iowa Writer's Workshop. Her memoir, Bright, is forthcoming from Sarabande in 2022. She directs the Creative Writing Program at the University of Virginia, where she is a Professor of Poetry. Petrosino is the recipient of a Pushcart Prize, a Fellowship in Creative Writing from the National Endowment for the Arts, the UNT Rilke Prize, & the Spalding Prize, among other honors. More here.
Tongo Eisen-Martin was born in 1980 in San Francisco, California, to a revolutionary mother, Arlene Eisen. His parents named him after Josiah Tongogara. Muralist Miranda Bergman is his godmother. He earned a bachelor's and master's degree in African-American Studies, all from Columbia University where he taught at the Institute for Research in African-American Studies, creating the 2012 curriculum We Charge Genocide Again! He has also taught at detention centers, including San Quentin and Rikers Island. He is the co-founder of Black Freighter Press. Eisen-Martin's books of poetry include someone's dead already (Bootstrap Press), Heaven Is All Goodbyes, Blood on the Fog (the latter two in City Lights Books Pocket Poets series), and Waiting Behind Tornados For Food (Materials), a UK volume including poems and a selection of prose works. The poetry LP I go to the railroad tracks and follow them to the station of my enemies came out from Rocks In Your Head Records. He was the inaugural Mazza Writer in Residence for The Poetry Center at SF State, and is currently Poet Laureate of San Francisco.
Video from recent Poetry Center Book Award readings:
jayy dodd and Lourdes Figueroa: October 28, 2021
Ashley Toliver and Jason Bayani: September 17, 2020
Lauren Levin and Melissa Mack: February 21, 2019
Bao Phi and Sarah Menefee: November 14, 2019
Tags
Upcoming Events
Saturday, December 09, 2023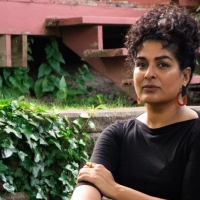 Saturday, December 09, 2023