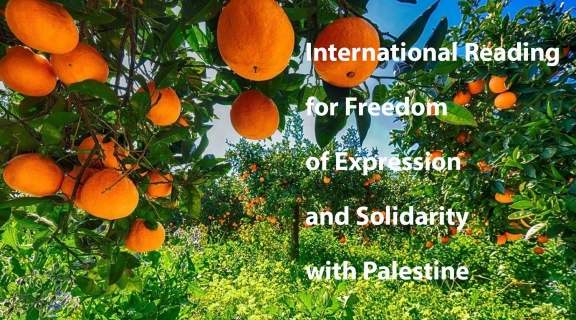 International Reading for Freedom of Expression and Solidarity with Palestine
Saturday, November 25, 2023
Event Time
05:00 a.m. - 05:00 a.m. PT
Cost
Free and open to the public
Contact Email
poetry@sfsu.edu
Overview
On November 25th, we gather writers from around the world for a 24-hour reading in support of Palestinian writers, Palestinian voices in diaspora, and their allies. We gather in the spirit of fundamental respect for life and liberation. As individual poets, artists and writers, and representatives of independent arts organizations, we call for an end to all ongoing genocidal aggression globally. We condemn the collective punishment of Palestinians and call for a global commitment to protect freedom of expression and critical dissent. 
This 24-hour online International Reading for Freedom of Expression and Solidarity with Palestine begins 3:00 pm EEST (Palestine) / 5:00 am PST (San Francisco) with writers in Palestine, then moves across the globe, with writers reading in multiple languages, to conclude 3:00 pm EEST / 5:00 am PST with Palestinians closing the cycle. Full outline schedule below.
• Video for the 24-hour program is now posted at YouTube: Part 1, Part 2.
The Poetry Center-organized segment will stream live at 4:00 pm Pacific time, and will feature readings by poets Deema K. Shehabi, Nathalie Khankan, Priscilla Wathington, and Zeina Hashem Beck. Please join us at that time and tune in to the 24-hour livestream throughout the day.
SCHEDULE: International Reading for Freedom of Expression and Solidarity with Palestine
November 25 – November 26, 2023
Start Time: 3pm EEST / 1pm GMT / 8am EST / 5am PST
TIME in GMT  /  in PST
Saturday 25 NOV
1-2:30pm  /  5-6:30am • Palestine, hosted by Munir Nuseibah
2:30-3pm  /  6:30-7am • Algeria, hosted by Habib Tengour
3-3:30pm  /  7-7:30am • Galicia, Spain, hosted by Oriana Mendez
3:30-4:30pm  /  7:30-8:30am • UK, hosted by Camilla Nelson
4:30-5:30pm  /  8:30-9:30am • Argentina, hosted by Robin Myers
5:30-6:10pm  /  9:30-10:10am • New York, US, hosted by E. Tracy Grinnell
6:10-6:30pm  /  10:10-10:30am • New York, US, hosted by Jade Hickey
6:30-7pm  /  10:30-11am • New York, US, hosted by Sarah Riggs and Malvika Jolly
7-7:30pm  /  11-11:30am • Chile, hosted by Carlos Soto Roman
7:30-8pm  /  11:30am-12pm • Montreal, Canada hosted by Erin Moure
8-8:30pm  /  12-12:30pm • New York, US, hosted by Stephen Motika
8:30-9pm  /  12:30-1pm • New York, US, hosted by Marine Cornuet and Rebekah Smith
9-10pm  /  1-2pm • SF Bay Area, US hosted by David Buuck and Noah Ross
10-10:30pm  /  2-2:30pm • Vancouver, Canada hosted by Stephen Collis
10:30-11:30pm  /  2:30-3:30pm • Puerto Rico, hosted by Raquel Salas Rivera and Mara Pastor
11:30pm-12am  /  3:30-4pm • Colorado, US, hosted by Jeffrey Pethybridge
Sunday 26 NOV
12-12:30am  /  4-4:30pm • San Francisco, US, hosted by Steve Dickison
12:30-1:30am  /  4:30-5:30pm • Toronto, Canada, hosted by Ghazal Mosadeq and Ami Xherro
1:30-3:00am  /  5:30–7pm • Film screening from De tout cœur… by Safaa Fathy • Pierre Joris • Music: Le Trio Joubran & Mahmoud Darwish, À l'ombre des mots
3-3:30am  /  7–7:30pm • Arizona, US, hosted by Farid Matuk
3:30-4:30am  /  7:30-8:30pm • Australia, hosted by Samah Sabawi
4:30-5am  /  8:30-9pm • Afghanistan, hosted by Bobuq Sayed
5-6am  /  9-10pm • Cuba, hosted by Eilyn Lombard and Jamila Medina
6-7am  /  10-11pm • India, hosted by Mamta Sagar
7-8am  /  11pm-12am • Film screening … by Safaa Fathy
                /   Sunday 26 NOV
8-8:30am  /  12-12:30am • Multi-national Readings
8:30-9am  /  12:30-1am • Pakistan, hosted by Qudsia Akhtar
9-9:30  /  1-1:30am • New York, US, hosted by Monica Ramon Rios
9:30-10am  /  1:30-2am • Iran, hosted by Aidin Poori and Granaz Mousavi
10-11am  /  2-3am • Turkey, hosted by Öykü Tekten
11-11:30am  /  3-3:30am • Ireland, hosted by Tapasya Narang
11:30am-1pm  /  3:30-5am • Palestine, hosted by Munir Nuseihbah
Tags
Upcoming Events
Saturday, December 09, 2023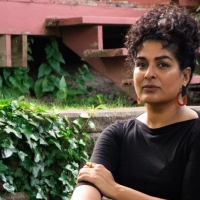 Saturday, December 09, 2023