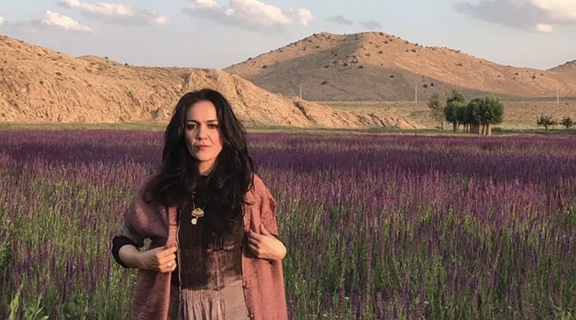 International Womens Day: Marjan Vahdat and Tonya M. Foster, in performance
Wednesday, March 08
Event Time
01:00 p.m. - 03:00 p.m.
Cost
Free and open to the public
Location
Knuth Hall Theater, Creative Arts Bldg., SF State
Contact Email
poetry@sfsu.edu
Overview
Mask requested for in-person attendance
Tune in to the video livestream
Join us for this special afternoon event, one in a number of programs taking place at SF State during February and March 2023 under the heading WOMAN. LIFE. FREEDOM., presented in solidarity with the Iranian Freedom Movement.
This event is free and open to the public.
On International Womens Day, renowned Iranian singer Marjan Vahdat will join with poet Tonya M. Foster, George and Judy Marcus Endowed Chair in Poetry, in a voice and poetry performance. These two artists' premier collaboration will be followed by SF State student poets and musicians presenting improvised readings with live Persian music accompaniment. 
1:00 pm Marjan Vahdat (voice) and Tonya M. Foster (poetry) in collaboration
2:00 pm Student spoken word and music accompaniment
This among other programs under the WOMAN. LIFE. FREEDOM. banner is made possible with support of a College of Liberal and Creative Arts 2023 "Extraordinary Ideas" grant, with additional support from the Center for Iranian Diaspora Studies, The Poetry Center, the George and Judy Marcus Endowed Chair in Poetry, the Department of History, and the Department of Philosophy, SF State. The overall project was originated by Persis Karim (Neda Nobari Distinguished Chair, Center for Iranian Diaspora Studies) and Hafez Modirzadeh (School of Music), San Francisco State University.
Iranian singer Marjan Vahdat was born in 1976 in Tehran. She has performed as an independent singer and musician since 1995. Marjan has presented her music in many concerts and festivals in Asia, Europe, the Americas, and Africa. After her participation in the acclaimed album Lullabies from the Axis of Evil (2004), Marjan and her sister Mahsa started a long lasting collaboration with the Norwegian record label Kirkelig Kulturverksted (KKV). This partnership led to a worldwide release of a series of albums and a various tours and concerts in many countries. She has developed her personal style based on the Persian vocal tradition of classical and regional folk music, with a contemporary expression. 
Tonya M. Foster, the George and Judy Marcus Endowed Chair in Poetry at San Francisco State University, is the author of the poetry collection A Swarm of Bees in High Court (Belladonna*, 2015) and the bilingual poetry chapbook La grammaire des os (joca seria, 2016). She is coeditor of the essay collection Third Mind: Creative Writing through Visual Art (Teachers & Writers Collaborative, 2002). Forthcoming are a poetry chapbook, A History of the Bitch (AHOTB) (Sputnik & Fizzle), and the full-length collection Thingification (Ugly Duckling Presse). With the support of a Creative Capital Award, Foster is also developing a multimedia, multi-genre project titled Monkey Talk, that studies issues of race, paranoia, surveillance, and aesthetics.
Photo: marjanvahdat.com
Related events: 
Undisciplining the Fields: Abou Farman, with Tonya M. Foster
Tags
Upcoming Events
Saturday, September 23, 2023
Saturday, September 30, 2023
Thursday, October 05, 2023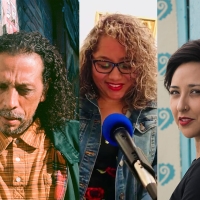 Thursday, October 05, 2023