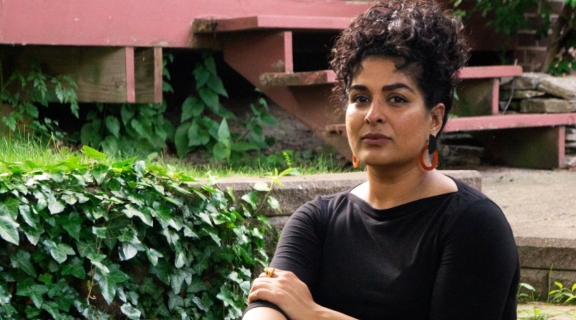 Divya Victor, The George Oppen Memorial Lecture
Saturday, December 09, 2023
Event Time
06:00 p.m. - 07:30 p.m. PT
Cost
Free and open to the public
Location
East Bay Media Center, 1939 Addison Street, Berkeley
Contact Email
poetry@sfsu.edu
Overview
The Poetry Center presents Divya Victor, delivering the 39th annual George Oppen Memorial Lecture. We are grateful and excited to welcome poet, scholar, editor, and educator Divya Victor for this latest manifestation in a forty-year-long opportunity to address and awaken the possibilities of poetic thinking in the vicinity of poet George Oppen and peers, opening routes toward inheriting, reinterpreting, and transforming such work and its legacy. Please join us in downtown Berkeley. The George Oppen Memorial Lecture is supported by the Dorothy A. Fowler Trust. 
"Whether it could be lake / Or fog": Reading the Scenic in a Time of Rubble
Divya Victor reads George Oppen's and Charles Reznikoff's treatments of landscapes against those of Robert Duncan, Wallace Stevens and Elizabeth Bishop to consider how Objectivist approaches to space and place offer us ways of imagining kithships across geographic and identitarian borders.
NOTE: This event follows Victor reading from her poetry, then joining in conversation with Tonya M. Foster at 2:00 pm (with an early dinner/late lunch break scheduled from 4:00–6:00 pm). 
This event is free and open to the public.
VIDEO for this program will be posted after editing at Poetry Center Digital Archive.
Divya Victor is the author of CURB (Nightboat Books, winner of PEN America Open Book Award and the Kinglsey Tufts Poetry Award); KITH (Fence Books/ Book*hug); Scheingleichheit: Drei Essays  (Merve Verlag); NATURAL SUBJECTS (Trembling Pillow), UNSUB (Insert Blanc), THINGS TO DO WITH YOUR MOUTH (Les Figues). Her work has been collected in numerous venues, including BOMB, the New Museum's The Animated Reader, Crux: Journal of Conceptual Writing, The Best American Experimental Writing, POETRY, and boundary2.
Her work has been translated into French, German, Spanish, and Czech. She has been a Mark Diamond Research Fellow at the U.S Holocaust Memorial Museum, a Riverrun Fellow at the Archive for New Poetry at University of California San Diego, and a Writer in Residence at the Los Angeles Contemporary Exhibit (L.A.C.E.). Her work has been performed and installed at Museum of Contemporary Art (MoCA) Los Angeles, The National Gallery of Singapore, the Los Angeles Contemporary Exhibition (L.A.C.E.) and the Museum of Modern Art (MoMA).
She has been an editor at Jacket2 (United States), Ethos Books (Singapore), Invisible Publishing (Canada) and Book*hug Press (Canada).
She is currently an Associate Professor of English at Michigan State University. Photo by Hannah Ensor. More at divyavictor.com
Related event
Undisciplining the Fields, Divya Victor reading and in conversation with Tonya M. Foster
Audio and Video: George Oppen at The Poetry Center
Charles Reznikoff and George Oppen: February 19, 1963
George Oppen: February 21, 1968
George Oppen: October 29, 1969
Robert Duncan and George Oppen: February 22, 1973
Charles Reznikoff (introduction by George Oppen): March 21, 1974
Tags
Upcoming Events
Saturday, December 09, 2023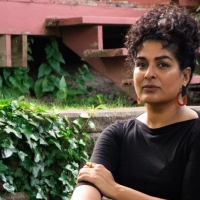 Saturday, December 09, 2023