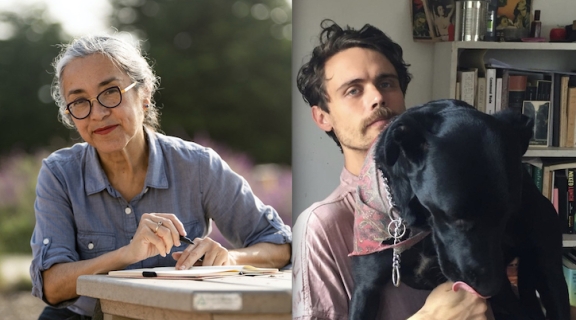 Cristina Rivera Garza and Kit Schluter, reading and in conversation
Thursday, March 04
Event Time
07:00 p.m. - 08:00 p.m.
Cost
Free and open to the public
Location
Remote access event
Contact Email
poetry@sfsu.edu
Overview
With emcee, Carolina de Robertis
Supported in part by the National Endowment for the Arts
This remote-access event starts promptly at 7:00 pm Pacific Time, and is free and open to the public. Real-Time Captioning link will be provided at the event. Media Captioning provided after the event, at our YouTube channel and at Poetry Center Digital Archive. For other reasonable accommodations please contact poetry@sfsu.edu
Celebrated novelist, poet, and essayist Cristina Rivera Garza returns to The Poetry Center. She'll be joined by poet and translator Kit Schluter, in Mexico City. They'll each read from their own writings, then join in conversation with one another and with novelist Carolina de Robertis as emcee, and respond to questions from the audience.
One day, on a cloudy March afternoon to be more exact, I was in a classroom lined with long, rectangular windows in an old colonial building in the heart of Mexico City. Through one of those windows, in the most surprising manner, someone entered. It was a young man. He said he'd come from Oaxaca and that he wanted to meet me. I believe he sat in on the session in which we discussed the methods of documentary poetry, the writing practice that incorporates and subverts, that embraces and tests the public language of the dispossessed and the suffering…. Later, that same young man who came in through the window as if it was a door asked me something impossible, which is the only thing worth asking for.
—Cristina Rivera Garza, "Taking Shelter," Introduction to Grieving: Dispatches from a Wounded Country
Cristina Rivera Garza. "Born in Mexico and a resident of the United States for over two decades, Rivera Garza is a prolific and multifaceted author of fiction, essays, and scholarship, including nearly twenty works in Spanish. Her novels…are deeply informed by her training as a historian and frequently feature characters who stumble upon images, texts, or people that disturb the supposed clarity of the historical record." (from the MacArthur Fellows citation, 2020). Three of Rivera Garza's acclaimed six novels have appeared in the US—most recently, The Taiga Syndrome (El mal de la taiga, trans. Suzanne Jill Levine and Aviva Kana); The Iliac Crest (La cresta de Ilión, trans. Sarah Booker); and No One Will See Me Cry(Nadie me verá llorar, trans. Andrew Hurley).
Within this past year, Rivera Garza's complete poems, La fractura exacta: Poesía completa, were published in Spanish (from Ediciones Libros del cardo, in Chile). And three remarkable books of nonfiction also appeared, in the US in English translation: Grieving: Dispatches from a Wounded Country (tr. Sarah Booker); The Restless Dead: Necrowriting & Disappropriation (tr. Robin Myers); and La Castañeda Insane Asylum: Narratives of Pain in Modern Mexico (tr. Laura Kanost). On the faculty at the University of Houston since 2016, Rivera Garza is Distinguished Professor of Hispanic Studies and Creative Writing. Visit her blog (in Spanish and English), No hay tal lugar: U-tópicos contemporáneos.
Trust
When I first looked in the mirror, I thought I looked dead, but I had simply become a child. Beside my face was a blue cake so radiant, even its light was edible.
—Kit Schluter, at The Brooklyn Rail
Kit Schluter is a poet-translator and bookmaker living in Mexico City. His poetry and stories have appeared in Boston Review, BOMB, Brooklyn Rail, Folder, Hyperallergic, and in the chapbooks Inclusivity Blueprint, Journals, Translations of Forgetting, Without is a Part of Origin, and the collections of stories and drawings, 5 Cartoons/5 caricaturas (tr. Mariana Rodríguez, Juan Malasuerte Editores), The Good in Having a Nuclear Family (Despite Editions), and his first full-length collection of poetry, Pierrot's Fingernails (Canarium Books, 2020). Among his prolific translations—from the French, Occitan, and Spanish—are books by Olivia Tapiero (Phototaxis, Nightboat), Anne Kawala (Screwball, Canarium), Jaime Saenz (The Cold, Poor Claudia), Michel Surya (Dead End, Black Sun Lit), Julio Torri (Essays & Poems, Archivo48), Marcel Schwob (The Book of Monelle; The Children's Crusade, foreword by J.L. Borges; and The King in the Golden Mask, all Wakefield Press), Amandine André (Circle of Dogs, with Jocelyn Spaar; Some Thing, with Lindsay Turner, Aphonic Space), and Clamenç Llansana (Goliard Songs, Anomalous), with others on the way. Schluter co-edits O'clock Press, designs for Nightboat Books and Juan Malasuerte Editories, and with Tatiana Lipkes organizes the monthly reading series at Aeromoto, a public arts library in Mexico City. View more, including links to publishers and selected writings.
Featured:
Cristina Rivera Garza, MacArthur Foundation Fellows Citation, 2020
Christina Rivera Garza, on The Taiga Syndrome, at the 2019 Library of Congress National Book Festival, Washington, D.C. 
Kit Schluter interviewed, National Poetry Month featured poet, at Entropy, April 2017
Kit Schluter, reading with Brandon Brown and Wendy Trevino, at Woolsey Heights, May 25, 2019
Tags
Upcoming Events
Saturday, September 23, 2023
Saturday, September 30, 2023
Thursday, October 05, 2023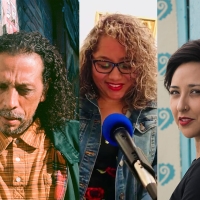 Thursday, October 05, 2023