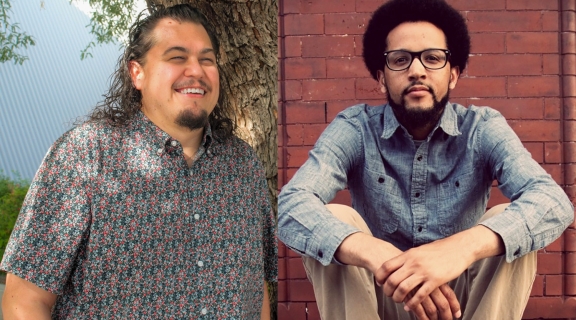 Anthony Cody and Chaun Webster at Howard Zinn Book Fair 2023: Against Amnesia
Sunday, December 03, 2023
Event Time
10:30 a.m. - 12:00 p.m. PT
Cost
Free and open to the public
Location
Room 214, City College of San Francisco Mission Center, 1125 Valencia Street
Contact Email
poetry@sfsu.edu
Overview
The Poetry Center together with the Howard Zinn Book Fair welcomes Anthony Cody and Chaun Webster, arriving from Fresno and from Minneapolis, respectively. Two poet friends in correspondence read their work then talk with one another and their audience, for this late-morning opening session—part of an extraordinary day of artists and writers, organizers and activists, publishers and booksellers gathered at the call of the Bay Area-based Howard Zinn Book Fair collective. Join us for a generative conjuncture as these two brilliant poets and thinkers cross paths. We convene at 10:30 am sharp in Room 214 at City College of San Francisco Mission Center. Program supported by the National Endowment for the Arts.
This event is free and open to the public.
VIDEO for this program will be posted after editing at Poetry Center Digital Archive.
Chaun Webster is a poet and graphic designer living in Minneapolis whose work is attempting to put pressure on the spatial and temporal limitations of writing, of the english language, as a way to demonstrate its incapacity for describing blackness outside of a regime of death and dying. Webster's debut book, Gentry!fication: or the scene of the crime, was published by Noemi Press in 2018, and received the 2019 Minnesota Book Award for poetry. Wail Song: wading in the water at the end of the world, was published by Black Ocean in April 2023.
Anthony Cody is the author of The Rendering (Omnidawn, 2023) and Borderland Apocrypha (Omnidawn, 2020), winner of the 2018 Omnidawn Open Book Prize. His debut was recognized with a 2022 Whiting Award, a 2021 American Book Award, a 2020 Southwest Book Award, and a Poets & Writers 2020 Debut Poet selection. Anthony was a finalist for the National Book Award, PEN America / Jean Stein Award, L.A. Times Book Award, among others. He is a CantoMundo fellow from Fresno, CA, with lineage in the Bracero Program and Dust Bowl. He collaborates with Juan Felipe Herrera's Laureate Lab Visual Wordist Studio, serves as a poetry editor for Omnidawn, and is co-publisher of Noemi Press. Anthony teaches in the low-residency MFA at Randolph College.
Howard Zinn Book Fair 2023: Against Amnesia
Related event: 
A Poetics of Now: The Ancestral and Archive, with Mai Der Vang, Anthony Cody, Chaun Webster
Tags
Upcoming Events
Saturday, December 09, 2023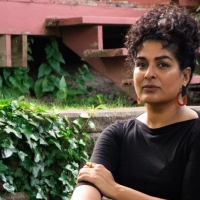 Saturday, December 09, 2023